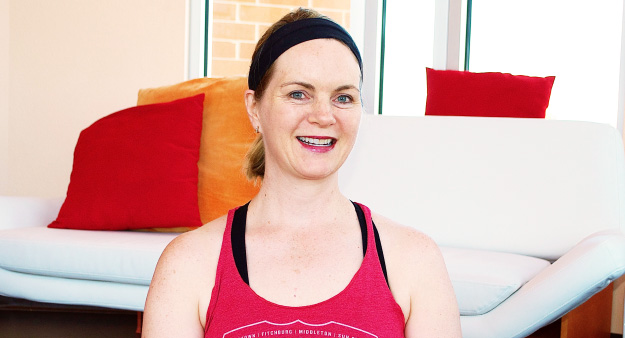 I had a challenging 2013. One of my sisters passed away after a lingering illness just after my 50th birthday. I went to a hot yoga class with Mary Johnson, who had a life goal of becoming a yoga instructor. (She took Dragonfly's Teacher Training to become an instructor.) I had taken a handful of "room temperature" yoga classes through a community program, and just one hot yoga class. I was a rookie. I really enjoyed the class, decided to do something purely for me, and went to my first Dragonfly class in January 2014.
From a logic standpoint, it is the best combination of strength, balance and flexibility I have ever participated in. From a satisfaction standpoint, it is fun to find new "personal bests." I focus on a pose that I hope to learn to do. First it was bird of paradise, and then side crow, then head stand. It's enjoyable to challenge myself and see growth. Yoga makes me laugh out loud, unleashing my inner child and pride in being able to do something new.

From a mental well-being standpoint, I actually practice yoga breathing during times that are challenging. I find that I am able to handle stress in a healthier way. I am more confident that I have developed enough inner strength to handle whatever life may bring.
Also, I have hyper-mobile shoulders and hips. I had been to physical therapy following weight lifting workouts that stressed the joints. When I started at Dragonfly, I always slept on my left side because my right shoulder joint was painful. I can lie on either side now. My upper body strength and core are much stronger than when I started practicing.
My goal is 3-5 classes a week. My favorite class is any flow or core flow class. I enjoy the Dragonfly community. The staff is very supportive, welcoming and fun. The white board quotes at the Middleton studio frequently become my Facebook posts… so they have been shared around the world. My fellow students are inspiring.
Instructor Kelly Perna: "Barb is truly a dedicated yogi so deserving of the Yogi of the Month title. While some may see Sunday morning as a day to sleep in, I have the pleasure of seeing Barb every Sunday morning for Slow Flow in Fitchburg. Seriously, she never misses! Her commitment to her practice is an inspiration to us all. Thank you, Barb, keep up the great work."