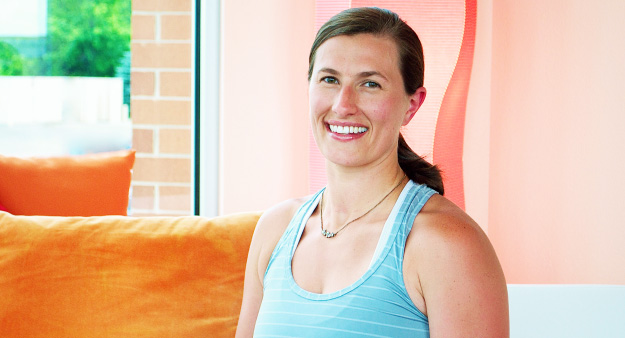 I recently took a 10-day vacation in the North woods with my most-favorite people – my hubby, Nick, baby Wesley, Grandma Karen, and close friends – but, even though the weather was delightful, conversation light-hearted, and the beer cold, something was missing – I was longing for the 95-degree heat of the Dfly studios! Neither kayaking, hiking, nor swimming could replace the feeling of a post-Dfly workout – the kind that leaves you drenched from head to toe.
The fabulously fit Ashley Bruckner brought me to my first Yoga Up class in October 2015, and I've been going just about every day since. The variety of classes, the quality instructors, and the convenience of multiple studio locations makes Dfly so easy to commit to. I've never felt this good in my life – I have more confidence and agility and endurance – all important traits when you have an 18-month old running your life!

I've found a perfect balance of strength and flexibility by attending at least three Yoga Ups, one Flow, and one Barre class per week. I absolutely LOVE anything and everything led by Erica Doyle, Carrie Johnson, and Shawn Smith – their pre-planned workouts are well thought out and super challenging, and they have great music! There are so many fantastic, knowledgeable instructors at Dfly (Kim, Katie F, Tiffany, Natalie, Caroline, Suki, and Rachel to name a few more) that have made a big difference in my life, and I couldn't be more appreciative of this new lifestyle they've helped me create.
Now I just need to find a way to get a Dfly studio to the Minocqua/Manitowish Waters area…
Instructor and Studio Manager, Natalie Koberstein: "When Kelly walks into the studio, the positive energy is tangible! She lights up the room, and treats everyone with kindness. Kelly's weekly variety of classes keep her challenged and also attuned to the strength, flexibility, power and ease that has grown in her practice, and her daily life!"