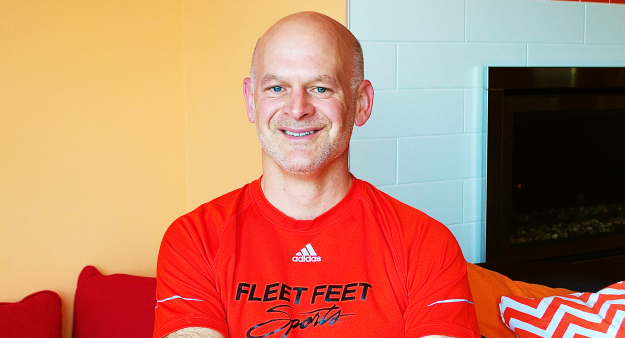 A great friend gifted me with the trial membership early last December after we had chatted about starting yoga in the New Year. I ended up participating in my first class the day after receiving the gift. After completing the trial, I joined and competed the 30 and 60 day challenges.
I knew a few of the basic poses from yoga classes we had offered at Fleet Feet. In my head I knew that yoga would be great for my running, but it took actually COMING to the class to make it all happen. My first classes at Dragonfly were amazing because the instructors made it so easy to get into the flow of things. They always make everyone feel welcome.

I most enjoy commitment to the practice. When I am surrounded by others who are practicing, it motivates me to work even harder, to experiment with new poses, and to continuing the learning process.
I have noticed great changes since I started at Dragonfly! I feel like I am 10 years younger! My running has improved in leaps and bounds. I ran a race in February in Tampa that just really surprised me. I had made so much improvement in such a short time and I give much of the credit to yoga. My core is stronger, I have an increased range of motion, and mentally I am ready to take on any challenge.
I attend classes now 4 or 5 times per week. I love the variety of the classes and feel most challenged by Barre and Yoga Up. I made a commitment to work on my weaknesses and so far my upper body is getting stronger and stronger.
My favorite time has been Saturday mornings when I run with our little group at Fleet Feet and then come over to practice Flow or Barre. So many runners are benefiting from yoga practice. I am very grateful to all the instructors at DFly. Amazing spirits!
Studio Manager and Instructor, Kristin Wilson: "Pete has shown his commitment to Dragonfly since the first day he walked in to the studio. He has been a regular in the early morning classes and he always works so hard and is not afraid to try new things. It is so amazing to hear how a consistent yoga, fitness and BarreAmped practice has improved his running! We are all so proud of you, Pete!"