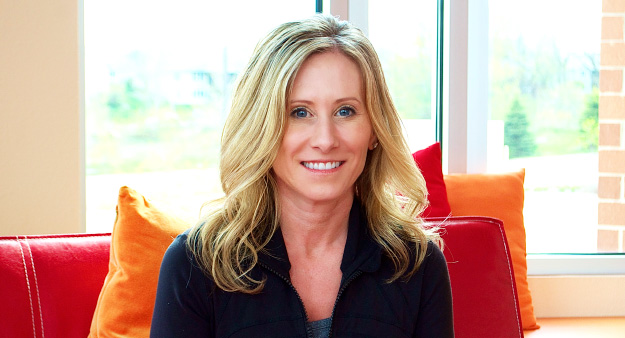 I got started at Dragonfly in the fall of 2011 when the Fitchburg location first opened. I have always enjoyed yoga, but had never taken a hot yoga class. To be honest, I didn't really think I would enjoy it, but figured I would give it a try. While I do enjoy working out, I have never had the tolerance for working out in the heat.
Before coming to Dragonfly, I had done other yoga and Pilates classes, but it had been years prior to living in Madison. I never really looked for yoga classes and instead began a regular weightlifting workout and did various cardio workouts and that became my routine.

The thing I enjoy most about Dragonfly cannot be narrowed down to one thing; it really is the whole experience. There is a great variety of classes to choose from and I like to mix it up and take a variety of different ones. I enjoy the different styles each instructor brings and each really makes the class their own and brings their personality into it. It is refreshing to see the passion each instructor brings to class. It wouldn't be fair if I also didn't mention the staff, they are the most welcoming and friendly people I have encountered. I am usually greeted by name when I walk in, I can't say that about any other place I frequent often. The last things that I will mention are all of my fellow yogis that I practice with daily. I am inspired by them and feel the energy that each one brings to class. It motivates me and pushes me beyond what I think I am capable of and for that, I am grateful.
I have noticed many health benefits from my yoga practice. To name a few: I sleep better, gave gained tremendous flexibility and it has helped me perform better at my other workouts. I like that I can completely be in the moment when I am practicing and this allows me to let go of all the daily stresses of my day.
I try to attend classes daily, sometimes taking two in a day, it's that addicting! I don't know if I have a favorite class as I feel it has changed as my practice has evolved. I love the Power Up and Yoga Up classes as a way to kick up my workout, but I equally enjoy Flow and Fusion as well.
Instructor Shawn Smith: "I looooooove when Kristen is in class!! As an instructor it's a treat when you have clients who really, really push themselves and that's exactly what she does whether it's in Power Up or Barre. I'm in awe of her form in Barre — she #ShakesToChange every time she attends class. She is a perfect example of a Dragonfly Yogi."