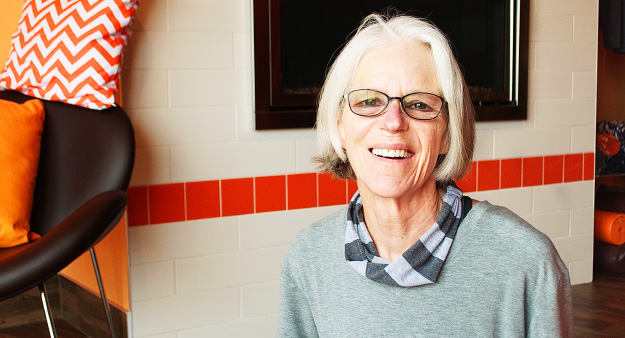 My daughter told me about Dragonfly Hot Yoga, as she knew I had been wanting to try hot yoga. She heard it was new in Sun Prairie and not too far from my home. I stopped in one day and was so well greeted. I still did not know what to think because of my age of 64 and starting yoga for the first time. I took my chances and tried a class and realized right away my age or my ability would not matter here. Everyone is welcome at Dragonfly and any ability is accepted here. The instructors encourage you to listen to your body and not to worry about your ability. Every person is treated as an individual and you choose your positions likewise. All the teachers and staff have been so amazing and ready to help in any way. I was going to try other studios but quickly decided there was no reason to look any further. I had found my happy place at Dragonfly.

What I love about the classes is the variety. I have never been flexible, but I do see improvement and feel overall stronger and in better shape. Yin is by far my favorite class – whether it be yin, aroma yin or yin and meditation. I feel the best after yin but love all the other classes too. They all have their special place and reasons for attending. Since I've started in November, I've gone almost every day. I am quite addicted to it.
Another great aspect of belonging to Dragonfly is that you meet so many people with the same interests. It has been easy to meet people here. I think there are many people that actually need these hot yoga classes to address body and health issues. I know from all the reading I have done how restorative it can be. I feel that I have found yoga for life and Dragonfly has changed my life forever. I love all the messages the teachers have for you; it makes you think about improving your life every day in some small way.
I recently retired, so I feel lucky to attend classes during the daytime and I appreciate the variety to choose from. I have been married for 44 years, have 2 daughters, a son-in-law and 2 grandsons. Besides my love for yin and yoga, my other interests include downhill skiing, hiking, fishing and quilting and of course my golden retriever Annie. She is 8 and keeps us very active.
I want all the teachers and staff members to know what a difference they have made in my life.
Instructor Kelly Perna: "Mary being titled Yogi of the Month is absolutely fitting as she is indeed a remarkable person. Mary is kind, warm, thoughtful and dedicated to her practice. Her smile radiates positivity every time she steps into the studio. Mary is an inspiration to both the teachers and to her fellow students."