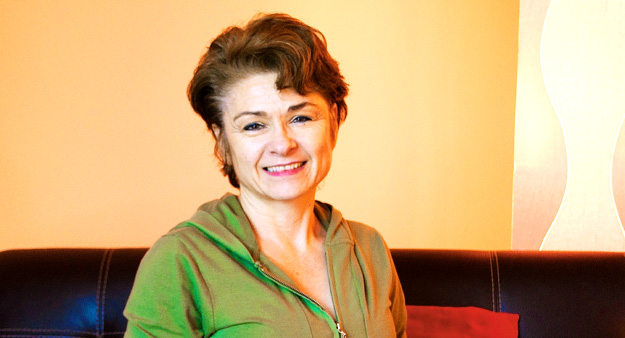 I got started at Dragonfly last year when my son and I walked into the Fitchburg studio one evening to look around and ask questions. Before Dragonfly I had little experience with yoga poses. I did not know how to maximize the benefits of each pose or how to let my body and mind be at rest. I liked the atmosphere and the pleasant calmness of the Flow class I took.
What I enjoy most from attending Dragonfly is the variety of well taught classes from the most caring and experienced instructors. They each bring their own personal touch to their class. I attend Dragonfly three times a week and enjoy every single class from Flow to Core Flow to Yoga Up and BarreAmped.

Having fibromyalgia and being a cancer survivor, I understand the importance of staying spiritual, mental and physically fit. With the help from the Dragonfly instructors, I know I am receiving the tools I need to achieve my goal of a healthier mind and stronger body.
Instructor Tiffany Geier: "Maria is a true inspiration at Dragonfly. I have had the honor of leading her on many Monday nights in both Core Flow and Yoga Up in Fitchburg. The energy, effort, and grace she displays on and off her mat, is beyond admirable. I have thoroughly enjoyed our conversations after class, and in turn, have learned much from her. Her honesty in her practice easily translates to her life off the mat. Much love and congratulations Yogi of the Month Maria!"