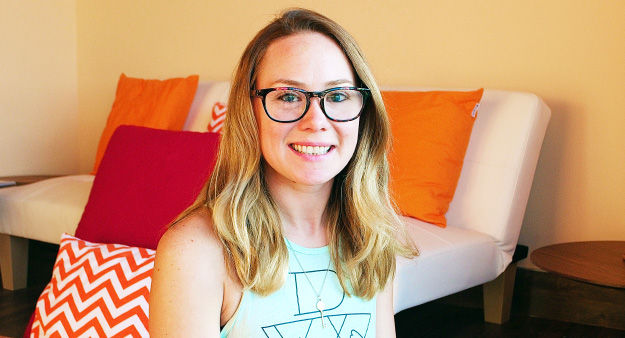 I started my membership with Dfly when the Downtown studio opened. I signed up for the first month trial, and have been hooked ever since. A group of friends and I enjoy going to the same classes, so it's fun to share the experience. Dfly's class variety allows me the freedom to practice yoga almost every day of the week. I took some classes at other yoga studios in the past, but nothing really stuck until I came to Dfly. The atmosphere is nothing like I had experienced at other places.

I enjoy the way I feel during and after class. Dfly is the first studio that I actually felt comfortable being a beginner to yoga. Every instructor is very supportive and motivates me to do the best I can from day to day. I love that I feel the freedom to play with new poses, but also work with whatever my body needs at the time. I feel stronger and more relaxed with every class I take. I really have been able to let go of a lot of the negative, and focus more on bringing positive energy into my life. The wonderful Dfly staff is what keeps me coming back.
I try to attend at least 5 classes a week. My favorite class changes from week to week, but I love Power Flow! There is always a new pose that I am learning in Power Flow, and it's so much fun to try different variations of a pose you already know! When attempting a more challenging pose, I usually find out that I am stronger than I thought.
I have always been active and athletic, and hot yoga has been a great addition to my routine. I love being outdoors, biking, water sports and playing with my dog. Yoga has given me more energy and strength to continue doing the things I enjoy!
From Instructor Carrie CJ Johnson: It is truly an honor having Brooklyn in class! She works so hard and does such a wonderful job! Brooklyn can be seen at Dragonfly bright and early in the mornings and I often see her when I take class at other times of the day. Her smile, fellowship with other students, and dedication are very inspiring – to name a few! You can tell her passion drives her yoga and fitness practice! I am so happy Brooklyn is such a big part of the Dragonfly community.