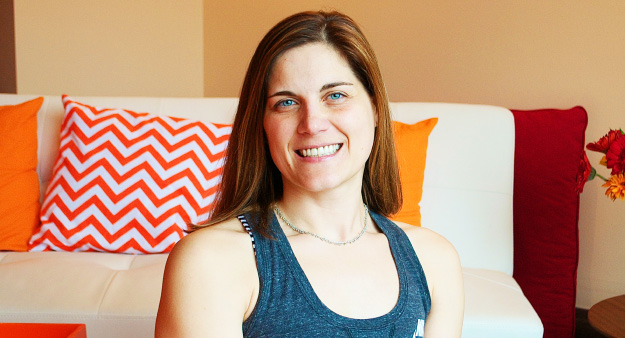 I attended one of the first free classes on opening weekend and signed up for a membership that same day. I was so excited Sun Prairie finally had a yoga studio! It was amazing to see the variety of classes being offered and I enjoyed taking the first month of my membership to explore the different types of classes.
I had been into yoga on and off since college but had not done any yoga for five years prior to Dragonfly opening in Sun Prairie. As a working mom, it was hard to get into Madison for classes and I really missed yoga!

I love the sense of accomplishment at the end of class! I enjoy trying new things too and feel like I learn something new about my body after each class. I also appreciate how the Dragonfly teachers give students the space to play and push themselves depending on what they need from any given class.
I feel stronger physically and mentally since starting an active yoga practice again. All day I feel like I am rushing and juggling multiple priorities, so I love that one hour of yoga gives me clarity. It lets me feel refreshed and like I can take on the world.
I try to squeeze in 5-6 classes a week. My current favorites are Core Flow and Yoga Up! I love to challenge myself by taking on heavier weights or trying new movements.
I work in Sun Prairie in Data & Analytics at QBE Insurance and I live in Columbus with two kids – Madeline (5) and Henry (3). I love the positive attitude of all the Dragonfly staff and also enjoy meeting other students and being part of the Dragonfly community. It is so fun to walk into the studio and see friendly, familiar faces! One of my favorite quotes is 'If you love life, life will love you back' and I try to bring that energy to everything I do!
Instructor Kristin Haraldsdottir: "Kelly always comes to class with a smile and she makes teaching class such a pleasure. She is always smiling and makes everyone around her feel noticed and appreciated. Her positive energy and warmth are what I love about coming to Dragonfly- acceptance, love, and an eagerness to have fun and work hard in YogaUp!"