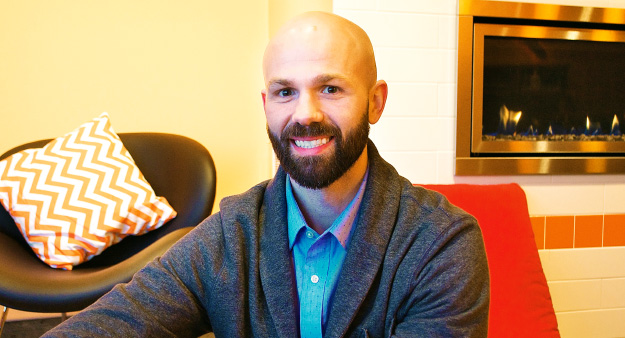 I started practicing at Dfly right when the studio opened in Sun Prairie. My wife and I live near the studio and we noticed Dfly was opening in town. We were both instantly hooked and proceeded to try every class during our intro month. Once we were about a week into our intro month we knew this was something we wanted to build into our daily lives and we then joined as members.
Prior to coming to Dfly, I had attended one Yoga class at an athletic club which mostly felt like an hour of group stretching. I left that class feeling like there were better ways I could spend an hour at the athletic club.

I really enjoy the mental aspects of Yoga; for me there is really nothing better than being able to dedicate an hour where I don't think of anything outside of that room. I usually leave class feeling the best I have felt all day.
I have noticed many benefits since starting at Dfly. I'm a big golfer and I am convinced that yoga has improved my golf game. I know I have gained a lot of core strength as well as improved my flexibility and balance. These are all great things for golf and my overall health.
I try to get into the studio 2-3 times a week depending on my schedule/mood. I balance Yoga with weight training so I try and make time for both but may switch it up depending on how I'm feeling. As for my favorite class, I'm definitely a fan of a good Slow Flow.
Overall I'm extremely happy I found Dfly and yoga when I did. I can't say enough good things about Yoga and the positive effects it has had on my life. Also my wife and I are expecting twin boys anytime now so I hope that yoga will be able to provide that mental break I might need while raising two boys.
Instructor Kristin W. on Cal – "It has been clear since the day Cal started at Dfly that he is so dedicated to his yoga practice. He shows such determination, patience and grace during his time on the mat! Congrats Cal!"