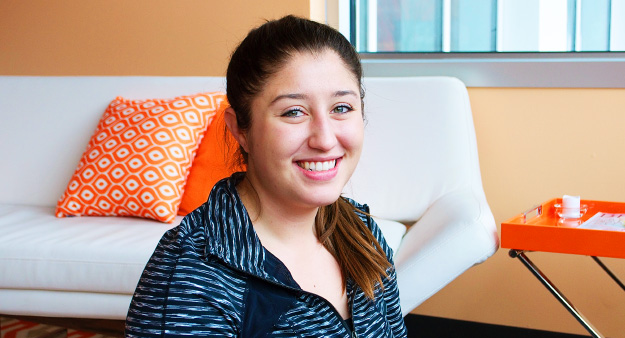 I started yoga as a recommendation to heal and strengthen my body after a figure skating injury a year ago. I found Dragonfly this August and have been hooked since. Dfly is always a highlight to my day and I have made so many great friends along the way.

I try my best to attend 8 classes a week, starting my week with early morning BarreAmped with Natalie, getting my butt kicked with Erica at Power Up on Friday and winding down the weekend with Sabrina at Aroma Yin. The variety of classes Dfly offers allows to me relax, work towards that side crow, strengthen my body and make great friends along the way. I have found that the more time I spend at Dfly, the more addicted I become to yoga and the more my body craves it. I can't believe how much change I can notice in my breathing, strength and flexibility. Yoga has put so much peace to my mind that I never thought could be accomplished with exercise and practice.
As a student, the best part about Dfly is the community. I have met so many great people who support me, both in and out of the studio. These friends help me get to class in the morning when I would rather sleep in, motivate me to work towards the 60 class challenge when it would be easier to go to happy hour, and push me to my limit during class. The studio staff is so welcoming and truly care about getting to know you. I'm lucky to have found Dfly and am so eager to share my experiences with friends who have yet to meet this wonderful community. My advice to new yogis like me: try the class that scares you most. When I first started taking BarreAmped and Power Up classes, I could hardly use weights, but now after much practice I find myself reaching for the heavy set and it feels great.