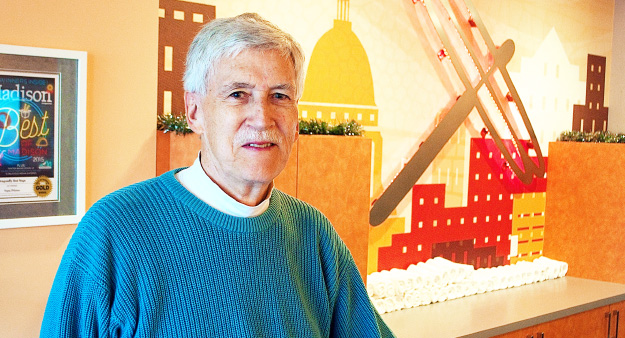 How did you get started at Dfly?
I live at Ovation 309, and just decided to try it.
What is/was your yoga experience before Dfly?
One session of hot yoga with family member years ago. Everyone stood on one foot and I tipped over.
What do you enjoy most from attending Dfly classes?
The instruction and feeling really good after each session.

Have you experienced any changes in your total well-being since taking classes?
Improving balance and flexibility.
How often do you attend classes? Favorite class?
Three times a week. I'm doing flow classes.
Please feel free to share any other thoughts you have about Dfly, hot yoga, or your life as we would love to know more about you.
I'm a retired rheumatologist who specialized in musculoskeletal medicine. Yoga makes sense to me as a compliment to aerobics and weight training.
There's a book Younger Next Year by Chris Crowley and Henry Lodge that provides ideas for aging well. Yoga aligns with several of their 7 rules: Exercise six days a week for the rest of your life. Care. And Commit. Everyone over 60 should read it. During yoga class, I completely lose track of time. It's meditative. Falling is an all too common life-altering event as people age. Yoga improves strength and balance—the perfect preventive strategy for us older folks. I like being in classes with younger people who have embraced exercise in spite of their demanding schedules, and with other retirees who are thinking Younger Next Year.