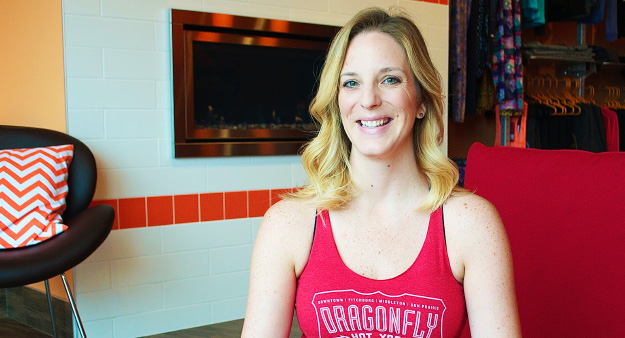 I had my eye on Dragonfly for quite some time prior to joining. When Dragonfly opened the studio in Sun Prairie, I was so excited! I showed up to their very first class on their opening weekend, was greeted by Kristin, and never looked back.
When I lived up in Minneapolis, I had a great yoga experience and loved the classes and atmosphere. When I moved down here seven years ago, I had difficulty replicating that feeling. Prior to Dragonfly, I had tried several different 'gyms', none of which stuck. They were cold, I was unmotivated and I didn't have that personal connection.

I had high expectations with Dfly, and they have exceeded every single one. The atmosphere is welcoming and relaxed. Going to class never feels like a chore or a thing I 'have' to do. I enjoy talking and getting to know the staff, instructors and other members. The classes are challenging and fun and I never feel like I'm just another member.
This summer, I was at Dfly a lot; I was in the midst of finishing my Master's thesis and starting a new job. I should have been stressed, but my regular yoga practice was a welcome refuge. By the end of summer, I was calmer, happier and in great shape! Let me tell you, those BarreAmped classes really sculpted my shoulders!
Currently, I try to attend 3-5 classes per week. Two of my favorite classes are BarreAmped and Aroma Yin. I loved BarreAmped because I love the burning and shaking! Aroma Yin fulfills the relaxing meditative type of yoga that my body needs. Stretching while integrating essential oils helps me focus and relax, which I desperately need after a long day of teaching.
Because Dfly has been such a life changer for me, I naturally have wanted to share it with my friends and family. Many of them love it as much as I do and they are members and are just as excited to practice as I am. Dragonfly has become an integral part of my life and I love sharing the love!
Studio Manager and Instructor, Kristin on YOM, Beth:
Beth has such a positive energy about her and she always comes to the studio with a smile on her face. She has such a well-rounded practice and it has been a joy to see her dedication to Dragonfly Hot Yoga from the start!