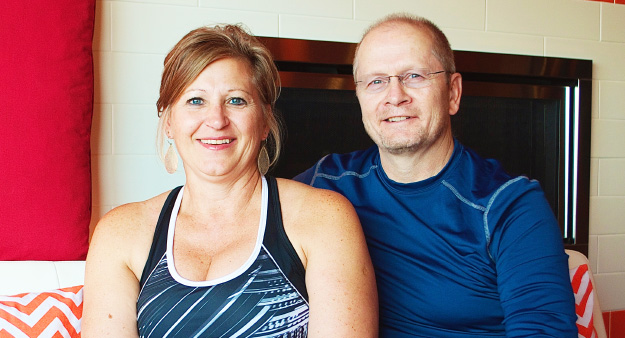 We had been participating in classes at another yoga studio when a friend told us that Dragonfly was opening a studio near us. Since we both like to be warm (think Florida in July), we had always thought Dragonfly would be a great fit for us. When the Sun Prairie studio opened 10 minutes from our home, we knew it was karma and we signed up for the introductory month at the grand opening and have been members ever since.  
We enjoy the variety of classes offered at Dragonfly. In any given week, we are able to work on everything from deep fascia stretches to cardio. Each instructor shares her unique style and provides opportunities to increase our strength, focus, and flexibility. 


Our jobs are fairly demanding throughout the week and yoga has provided us the opportunity to be present on our mat. While in class, we are able to focus on our well-being and freeing our energy toward positive physical and mental health.  Practicing yoga has helped our flexibility, overall ability to focus, stress management, and balance.   

Ideally, we like to attend anywhere from 5 to 7 classes per week. When we don't get to enough classes we can feel the difference in how we're functioning. Throughout the week, we try to participate in a variety of classes to get a balanced practice. We enjoy the calm and peacefulness in the yin classes, the physical challenges in BarreAmped and Yoga Up® classes, and the yang experience in the flow classes. 

We have found the Dragonfly staff to be genuine, attentive, friendly and very open to offering assistance to develop our practice. As administrators in public education, we understand the importance of meeting people where they are at and helping to move them forward in their practice. The opportunities at Dragonfly mirror the scaffolding we know to be successful for learners to grow and develop. In the near future, Connie would like to take the course work to develop her yoga practices and from there determine next steps in sharing those experiences.  Both of us would like to learn more about mindfulness practices and the benefits for physical and mental health. 


Instructor, Mairin Ryan on our Yogi Couple of the Month:
"Jim and Connie are such a delight to have in class! It's rare to see one without the other and they always seem to have so much fun together. I often see them cheering each other on especially in Yoga Up® when things are getting tough! They both have such a positive energy about them from the moment they walk in until the moment they leave and I always look forward to seeing them each week. They also have been so consistent with their practice and have been open to trying many different classes; ready to keep learning and working hard. Keep up the good work Jim and Connie, our well-deserved yogis of the month!"