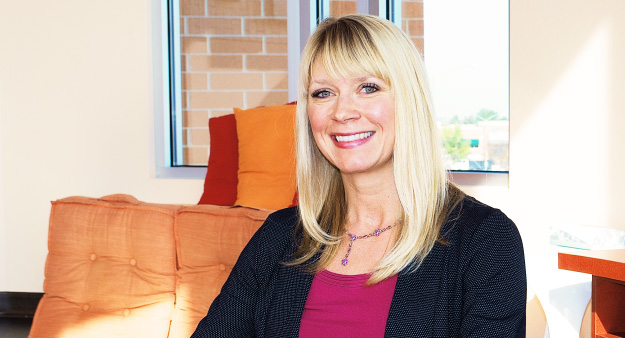 I started with Dragonfly in the fall of 2012 with one of the "10 class slash" passes. As time went on, I was attending more and more classes – so I finally signed up as a member and haven't looked back! Previously, I had done some yoga videos, but it was never a consistent part of my life.
I love the variety of classes offered at Dragonfly, and the instructors are amazing and full of positive energy! Everyone is friendly and it feels like home. Now that I have incorporated hot yoga as a part of my life, I will never go back to non-heated/room temperature yoga.

I am more focused and balanced all around. I can function daily with a lot less sleep, and the musculoskeletal pain that I experienced for years has nearly disappeared. In addition, I am more at peace with myself and have much more patience with my children.
I attend classes almost daily (5-7 times per week). I love Suki Warda's 5:30 a.m. Flow class. I have never been a morning person, but Suki makes me want to get out of bed before the sun even comes up! She's humble yet so strong, and such a skilled yoga instructor. I am also hooked on Kim Guenther's Power Up and Yoga Up classes…she brings amazing energy and a positive environment to very challenging classes.
Years ago, I was one of those people who had the misconception that practicing yoga was not a "true" work out. I completed two Wisconsin Ironman competitions (in 2003 & 2004), and never felt as fit as I do today. In fact, being a triathlete for those years is probably a contributing factor to the aches and pains that led me to yoga.
Although my life is busy as a mom with two children and a full-time career as a Sales Manager for an IT consulting company, Dragonfly offers a diversity of classes that fit into my lifestyle. It's everything I need (all in one place) to maintain overall fitness, health, and nourishment of the mind, body and spirit.
Instructor Suki Warda: "It's such a sweet pleasure to see Stephanie the moment she walks into Dragonfly. She lights up the entire space with her vibrant energy and exuberant smile! Her practice is thoughtful, patient, and playful. Keep sharing and growing your good vibes with us Stephanie!