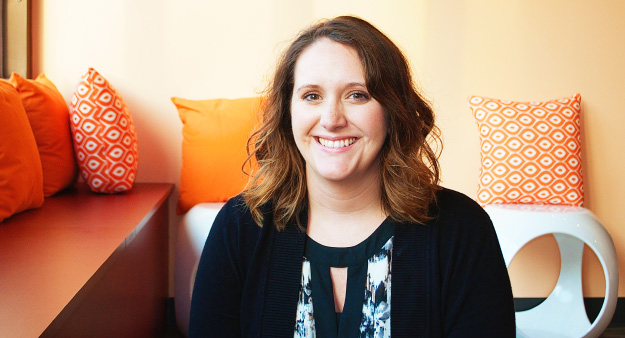 I have had a strong love-hate relationship with yoga for the past 8 years but then I found Dragonfly when it first opened in Fitchburg in 2011. I began to develop a more regular practice and that allowed me to finally get out of my own head and really enjoy the practice. I wish I could say I have maintained that awesome regular practice over the years but the reality is that my attendance varies. Sometimes I neglect my mat for months, other times it's a more regular routine.
I have also taken on some personal yoga challenges. Within the last year, many things in my life have changed. When the Dragonfly Downtown location opened, it felt like a sign that I needed a little more yoga in my life. My most recent 60-day challenge helped me to remember that I am better at dealing with life when I feel strong and centered.

I have had many knee surgeries including my most recent meniscal transplant. During the process, I've had amazing teachers help modify my poses and hold my body in a way that not only strengthened but also supported me. I am eternally grateful to all of them because they were able to help me keep my practice alive. I continue to modify certain poses and love that at Dragonfly I never feel a need to conform or do anything besides what serves me best.
I cannot wait to start bringing more balance to my yoga practice and get into a sustainable routine filled with my favorite traditional flow classes.
Instructor Kaila Pooler said "Jessica is a wonderfully rare yogi who approaches the mat for an even balance of positivity in her mind, in her body, and in her heart. I've had the pleasure of working with Jessica in Flow and in private sessions and I am always impressed by her willingness to let her practice ebb and flow – to fit it into her life when it's right, and to allow for it to soften away when it's not. She's open to learning lots of things in lots of different ways and moves with strength and grace both on and off the mat. This is not to mention she's a hoot to talk with too!"