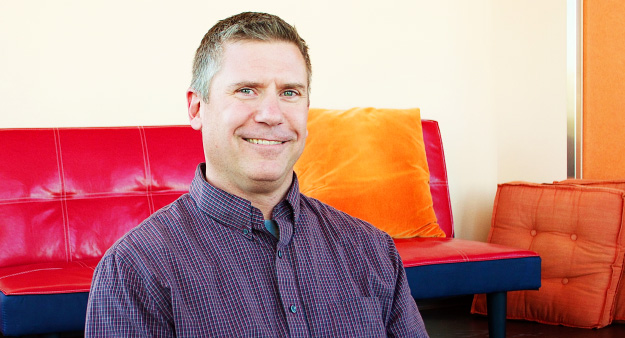 I first came to Dragonfly Hot Yoga with a friend in January 2013. I have some anxiety issues so attending group classes can be trying for me, but in my first class at Dragonfly, the teacher immediately made me feel welcome and after class made sure that all my questions were answered. A month later, I took a Yoga Basics Workshop and from there my participation gradually increased to where I am today. I had taken an introductory class at another studio several years before but it just didn't feel like it was the place for me.

I really like everything about attending classes at Dragonfly. As soon as I walk through the door everyone is so friendly and makes me feel welcome. I love that all the instructors are so knowledgeable and helpful, yet each has his or her own approach, making each class different and wonderful.
During the week I attend classes after work and regardless of the type of day I had at work, I always leave Dragonfly feeling energized and in a great mood. Saturday morning classes are a great way to start the weekend.
In 2010 I was diagnosed with an inflammatory disorder called sarcoidosis, the primary effect of which was to completely drain me of my energy. While that improved somewhat after time with some steroid treatments, I still didn't feel like my old self. That, along with knee pain and some nervous system issues, is what initially aroused my interest in yoga. I also figured it couldn't hurt my golf game. While my golf game hasn't improved much, my energy has increased, my nerves have calmed, and I can go up and down stairs without knee pain!
What I hadn't anticipated about attending yoga are the meditative aspects and emotional benefits. Since starting at Dragonfly, I feel that my anxiety issues have improved quite a bit. I'm also more productive at work and am much more patient than ever before. I try to come to classes at least 4 or 5 times a week. I usually go to flow classes at Middleton or Fitchburg, but I occasionally go to Fusion, Yoga Up, and BarreAmped classes as well. I've been to the Sun Prairie location once and look forward to getting there again. I also hope to checkout the downtown location in the near future.
Yoga has become an important part of my life and I anticipate a long and fulfilling relationship with Dragonfly Hot Yoga.
Instructor Katie Frank: "Gary is a dedicated yogi whose practice is graceful, strong and confident. I always enjoy having Gary in class or practicing alongside him, not only for the qualities described above, but also for his authenticity and sense of humor. Congratulations Gary!"