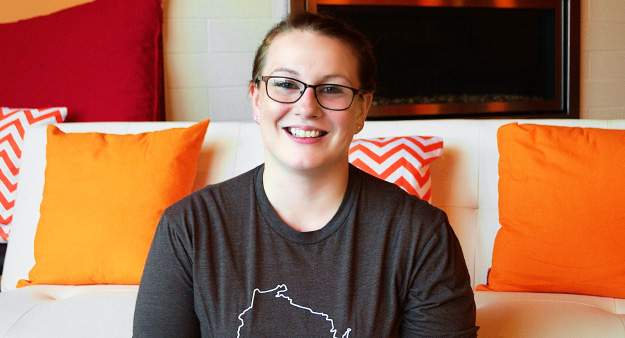 I started at Dragonfly because I wanted to try something different. I have previously struggled with trying to fit in workouts when I had a gym membership and when I did, I dreaded going. I could barely do thirty minutes of cardio without being completely bored out of my mind. I wasn't feeling motivated to work out, so I knew I needed something different in my routine.
Dragonfly Hot Yoga opened up next to Monks (where I work) and I thought it would be fun to try something new.
I did not have any yoga experience before starting at Dragonfly, so I didn't know what to expect. The entire Dfly staff was so welcoming and encouraging on my yoga journey.

My total well-being has improved drastically since I started my yoga journey. I have struggled with anxiety and issues with my weight since my teens. I moved to Madison 2 years ago and began at UW-Whitewater working towards my bachelor's degree. I am always on the road going back and forth to school and then work. I really lost track of eating right and I got down on myself for losing track of my workouts. It was a constant back and forth battle with myself and then my anxiety increased because I got out of my routine and I felt like a failure.
Since I started Dfly, my body aches are basically gone and I feel mentally strong again. I can feel my body getting stronger and steadier as well. I see small improvements all the time from where I started back in June.
I have been trying to go at least 4 days a week and I love going to Nicole and Brenda's classes. My favorite class is Fusion with Nicole. At first the 75 minute class intimidated me, but it is definitely my favorite now. I love her teaching style and the flow of her classes.
So far, my yoga journey has been a great experience. I love coming to the studio and I can't wait to see where my practice takes me on and off my mat. I feel better than I have in so long and I am filled with energy, unlike in the past. With school starting and things about to become very hectic, I am glad I can come here and breathe!
Instructor, Nichole Vega: "Julie is the kind of person that makes your day better when you see her. She has a smile and positivity that is contagious!!! She is so strong, both on the inside and the outside. Julie is amazing and I feel privileged to have her in my classes. Way to go Julie!!!!"