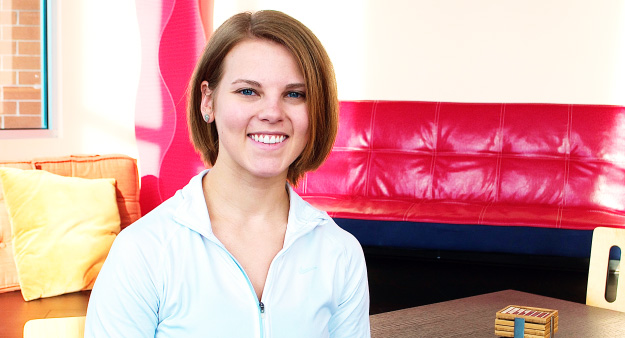 My experience at Dragonfly began in December of 2014 when my older sister, Jodi, took me to my first class. We attended Power Up and I really enjoyed the workout and the overall experience of Dragonfly. For Christmas, she surprised me with my one month of unlimited yoga, where I was able to experience a variety of classes. I decided to become a member after that one month so that I could continue to enjoy classes on a frequent basis.

Prior to Dragonfly, I was a competitive triathlete and trained many hours a week. I did mostly cardio training and my workouts were always planned out on a schedule. I have always enjoyed competing and being active, but never did much in the realm of stretching or strength training. I tried yoga on one or two occasions as a counter activity to training but had a hard time being still and finding my focus.
Since starting to attend class regularly, I am definitely stronger physically, but the mental and emotional benefits are the most drastic changes. Coming from a competitive background, I always put pressure on myself to perform. For me, working out was to train not just for enjoyment. The environment at Dragonfly is so warm and welcoming and allows me a place to come and be playful while seeing what I'm capable of. I like pushing myself, but I also appreciate that falling is encouraged and whatever you have to give that day is enough.
I try to attend classes 5 days a week. My work schedule varies, but morning classes are my go to. My favorite class is Power Up because I know that I will always get a great workout and I love the variety that each instructor brings to their classes. I've never had two classes that were the same and being able to develop strength while having fun is a good way to start your day. I also really enjoy Flow and just being able to come to the mat with a different mind set from Power Up and be playful with it and just see where my body and mind are for the day. I have also enjoyed giving Barre Amped a try. They are accurate when they say it never gets easier!
I love the variety of classes offered at Dragonfly. I will sit at my desk at work and plan out what classes I can go to on certain days. I never feel like I have to go but find myself wanting to go as much as I can.
Everyone who works at Dragonfly makes you feel so welcome and it is such a positive environment. I encourage friends to try Dragonfly because it has had such a wonderful impact on my life. Thank you to all the instructors and staff who make Dragonfly the place that it is!
Instructor Tami Raitt: "Jami is such a delight to have in class. She is fearless yet determined and always gives 110% to herself in class. Not only does she work hard to give herself a great workout, she always brings a great attitude and beautiful smile with her every day. Great job Jami!! You deserve it!!"