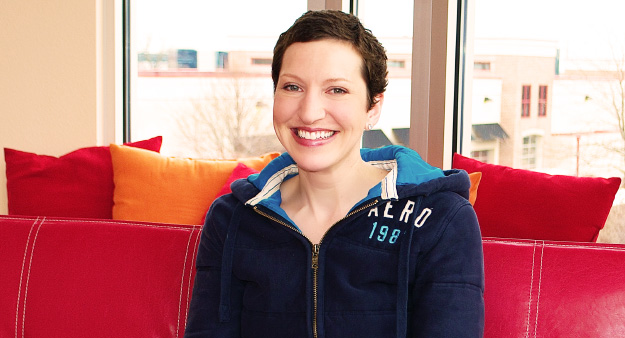 Yoga has been calling me since I was a child, but it took me a long time to pay attention.
I remember getting up early to watch Lilia's Yoga and You on public television. I don't think I ever followed along, I just marveled. It wasn't something I would attempt on my own, and when the voice in my head would whisper "yoga" to my older self, I ignored it because classes seemed like a luxury. I did not treat myself to that indulgence.
While I was recovering from surgery and chemotherapy in late 2014, I was fatigued, anxious, sleepless, physiologically out-of-balance, and unable to participate in my go-to activities (mostly volleyball and biking). I caved in and afforded myself this "luxury…" I quickly learned attending yoga classes was no extravagance for me but an essential, healthful practice.

Yoga is proving helpful in rebuilding my strength and stamina and improving balance and flexibility. More importantly, I find I am at ease and happy to a depth that I seriously cannot recall before in my adult experience (a ridiculously big gain over a short time period).
I thought I would try out several different yoga studios in Madison before choosing one, but I was immediately hooked on Dfly. The instructors and staff are lovely, welcoming, helpful, and challenging (just the instructors on that last one). The range of classes is fantastic, and I appreciate that I can also attend fitness and BarreAmped classes. I try to attend at least 3 days a week. I mostly attend Slow Flow and Yin classes, but I really enjoy Fire when it fits in my schedule. I also try to sprinkle in some BarreAmped.
I feel lucky to have started with Dfly and look forward to the emotional, cognitive, and physical growth a regular practice will bring. Now that I listened to that voice, I don't plan on stopping.
Instructor Kaila Pooler: "Holly is an incredible yogi and Dragonfly is lucky to have her around! I admire Holly's commitment to a varied routine – I think I've seen her in every single style of class we offer at Dragonfly from Slow Flow to Chakra Flow, Core Flow to BarreAmped, from Fire to Yoga Up! Holly always enters the studio with a smile on her face and offers a sweet, calming presence in classes. She is an expert at listening to her body – I've seen her take great care of herself on the mat as often as I've see her up the ante and work hard! I am very grateful to know her- thank you for being a part of Dragonfly, Holly!"