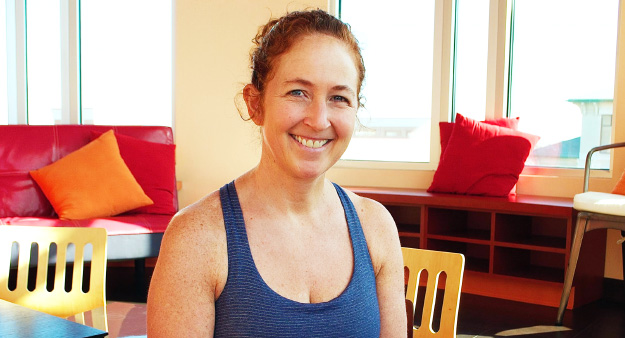 I was looking for a new studio to experience hot yoga and talked with some friends who had been enjoying classes at Dragonfly. They assured me I would love it! I stopped by Dragonfly in Fitchburg to see what the studio had to offer in terms of classes and scheduling. After talking through the information on the booklet, the gentleman helping me suggested I try the $40.00 introduction offer. He encouraged me to try a variety of classes, teachers, and locations to see what worked for me. GREAT ADVICE! I fell in love with Dragonfly. Prior to Dragonfly I took yoga classes at my health club for several years. I also tried hot yoga at a studio that was near my home and when the studio closed my love of hot yoga led me to Dragonfly.

Oh, where do I start detailing all I love and appreciate about the classes at Dragonfly…I would be remiss if I didn't start with the people! The staff and teachers are truly passionate, knowledgeable, and lovely people. The teachers do so much more than lead a series. They teach, guide, encourage, and assist all who choose to show up and roll out their mats. I am a better person and yogi because of their care. The studios are well cared for, clean, and offer everything clients need to enjoy their experience. The variety of classes offered is another element I appreciate about Dragonfly. My vision of yoga and what a studio dedicated to yoga could offer was quite narrow prior to joining Dragonfly. Friends and teachers were great about suggesting other classes the studio offered and that encouraged me to try new formats.
I mentioned earlier that I feel I am a better person and yogi because of yoga and the guidance of the teachers. I truly believe this. I have learned patience and respect for myself as I grow my practice. Each time I roll out my mat I am reminded of these virtues. Since practicing yoga on a regular basis I have increased my flexibility and strength. My issues with foot pain have decreased and I have learned the importance of breath. Above all I have learned that it is important to be an honest yogi and to try. Poses that seemed impossible for me have become possible because I was willing to try.
When my schedule allows it I attend about 10 classes a week, more during the summer. I love all of the Flow classes (i.e., 60 minutes, 75 minutes, Core Flow), Yoga Up and BarreAmped. During the Summer of 2014 I attended more than 90 classes! I have attended some workshops and would encourage others to take advantage of these opportunities. The Art of Receiving Assists was an extremely helpful workshop.
I have been teaching for the Verona Area School District for the past 27 years. I also am adjunct faculty for Cardinal Stritch and teach literacy courses there. I have two boys, ages 25 and 23. I love country music, Barry Manilow, reading and being in the warm sunshine. Thank you so much for choosing me as the Yogi of the Month. I am honored. Namaste~
Instructor Tiffany Geier: "Jennie is such a bright light at Dragonfly! I absolutely adore her. Her strength, grace, and patience shines loudly from her mat no matter what class she takes. She exudes positivity, and she has said to me countless times before or after a class that she enjoys so many of the classes and instructors, and that she is always grateful for the space and learning no matter when or who is teaching. I have learned a lot from Jennie, and I am always honored to have her in my Flow or Yoga Up™ classes. I am thinking that since she is now Yogi of the Month, I may just have to put Barry Manilow and Country music in the same playlist ;).