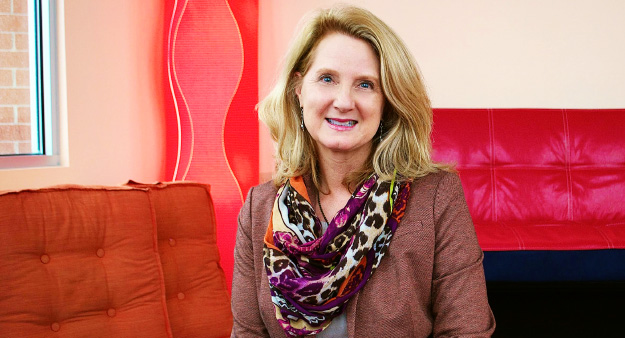 I was very excited to learn that a new yoga studio was opening up on Junction Road in Middleton during the summer of 2012. My office is nearby so this location would be convenient for me right after work, plus I was intrigued by what hot yoga was all about; so as soon as the doors opened I was signing up for classes. With very little yoga experience, I was apprehensive, but curious to see how my body would respond to exercising in a hot environment. My goal was to focus on improving flexibility and balance so yoga seemed to be the perfect fit. I tried it, loved it, and still love it!
As more of an aerobic junkie, slowing down to do yoga was challenging. I've always been an active person, participating in sports and exercise classes at various gyms. In the 80's it was aerobic classes that energized me, even to the level of becoming a certified instructor. I feel committed to keeping my body in good physical condition and enjoy exercising but have always struggled with finding the right balance. Hot yoga was something new to try and I had heard how powerful it could be for both your mind and body. Within a few classes, I began to feel a part of the Dragonfly community, meeting wonderful people, enjoying a beautiful facility and feeling at ease with learning something new. I was looking for the right combination of strength and mobility, and found it here at Dragonfly.

Dragonfly has been a lifesaver during this past year. In January of 2014, by husband was deployed to Afghanistan. The power of exercise was an amazing tool to help me through the difficult times while he was deployed serving our Country. Yoga helps me stay energized and recharged. I have made many friends at the studio and have a core group of exercise buddies, you know who you are, that make it so much fun. I have learned many things from the outstanding instructors; body alignment, proper breathing, strength, relaxation, and to listen to my body. Yoga has help me reactivate those small muscles that have been underutilized, to build a stronger core, and improve my overall balance and flexibility.
It is hard to pick a favorite class, but Tiffany's Yoga Up class ranks right up there. Tiffany, you are so inspiring and motivating and your energy is contagious. Carrie, Michele and Marin, I love your Barre and Flow classes and Suki and Will, your Flow classes are amazing and I enjoy the calming affect your voice brings to the practice. Kaila, I enjoy your Yoga Up and Flow classes and the inspiration you bring. The assists from Claire are much appreciated too. The ownership, instructors, and office staff is top notch, professional, friendly, and caring. I appreciate the variety of classes offered at Dragonfly, the diversity each instructor brings along with their energy and encouragement. Yoga was the missing piece to my workout routine and it has helped me find a better balance.
Instructor Tiffany Geier: "Lori Platz epitomizes strength, growth, and beauty. Lori approaches her mat with patience and courage and in turn her practice, from Flow to YUP, to Barre, to much more, continues to soar to new heights. Her smile lights up the room, and without fail, at the end of any class she takes, her eyes are twinkling and her face is beaming. It has been an honor to be a small part of Lori's experience at Dragonfly. I am so grateful for her presence in class, as her energy radiates to everyone in the room. Keep rockin and growin Lori!"