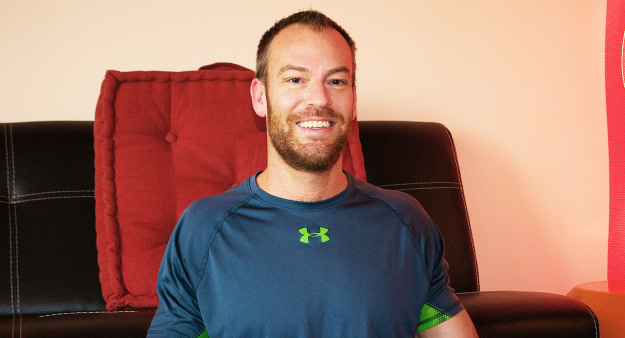 I spent my childhood and adult life competing in sports and training in preparation for those sports. I was always one dimensional with my approach. Weight training. That worked when I was younger, but as I tacked on the years it began to take its toll. The sports and training related injuries began piling up. I was quickly learning the hard way what happens to a body as it ages.
I wasn't ready to throw in the towel with regards to my active lifestyle, however; I had to discover an alternative approach as my old approach of weight training was only making things worse. I came across some articles extolling the virtues of yoga, specifically hot yoga. It seemed like it could be my fountain of youth.

My girlfriend and I found a Groupon for Dragonfly so I did a little research. Dragonfly, I found, had just recently won Best of Madison. That was enough for me. We attended a slow flow class the following week and I loved it.
Prior to joining Dragonfly my yoga experience was close to none. I had looked up some yoga videos on YouTube thinking it couldn't be that challenging. Wrong. I could tell from that single attempt that if I was going to do this, I was going to do this the right way. I needed guidance and instruction.
From the employees at the front desk, to the other students, to the amazing instructors, Dragonfly allows you to feel welcome, comfortable and encouraged. This was very important to me. I had no idea what to expect with this new form of exercise I was about to experience and was very anxious. It didn't take much time at all for the anxiety to subside and turn to anticipation of my almost daily yoga practice thanks to all the friends and staff at Dragonfly.
I have been practicing yoga for about eight months now and it has helped me begin to turn back the clock. The daily pain I dealt with from prior surgeries and sports injuries has steadily declined. I continue to feel better with each month that goes by. I am now able to do things I thought I may never be capable of again. My progress excites me and helps motivate me to continue.
I attend anywhere from four to seven classes a week depending on what my schedule permits. I prefer to attend daily as it seems to complete my day, but my schedule won't always allow that. For the most part, I attend Flow and Yin classes and the variations of each (Core Flow, Aroma Yin, etc.). I also enjoy the occasional Fire or Fusion class as well and plan to focus a little more on those classes in the upcoming year.
Finding hot yoga here at the Dragonfly studios has been a life changer. It has given me optimism within my active lifestyle that had slowly been diminishing. I'm excited to continue my practice, to learn, to improve and feel better with each day. My one regret is that I didn't have yoga in my life 20 years ago. Better late than never!
Instructor Michelle Schneider: "Jonathan is a true yogi. He practices with an admirable balance of strength and tranquility – his focus is inspirational. It has been wonderful to watch the evolution of his practice from beginning to end of class as well as throughout his time here at Dragonfly Hot Yoga. Thank you so much for your dedication to the practice and the willingness to explore all the possibilities it has to offer. Namaste."