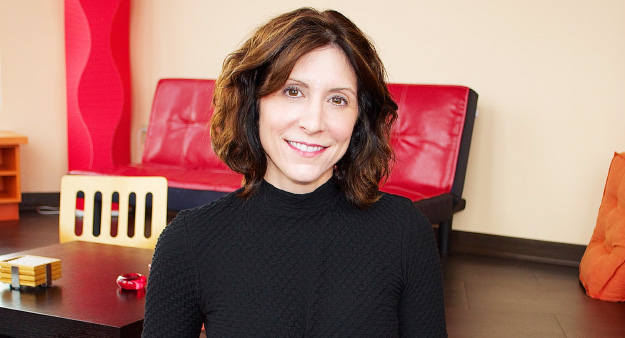 Six years ago after my daughter Sarah Sky was born, I joined a local gym. I was actively involved in taking the Group Classes offered at this gym – Body Combat, Body Sculpt, and Body Pump to name a few. A good friend of mine encouraged me to try the new Hot Yoga that our gym was now offering. One of the first classes I tried was Fire. Needless to say, I was hooked! I will admit, I struggled at first but simply loved all that this class had to offer and especially how it made me feel for days afterwards. I began talking about "Fire" to everyone I knew and came across a client of mine that loved Fire as well. She encouraged me to come with her to Dragonfly. The minute I walked into the studio, I was greeted by the warmest smiles, truly the friendliest professionals I had encountered in a long time. When I walked into the Middleton Studio, the heat was incredible – I loved it!!!!! It was a true 105 degrees, no panels and no space heaters. This was the real deal. I came back to practice at Dfly the very next day and this time I heard, "Hey Lynn, welcome back!" I instantly felt right at home.

Fire and Fusion are my favorite classes to take. However, I love the Core Flows, Power Flows, Yoga Up's, Power Up's, and Barre offered at Dragonfly. I practice on average four to five times a week and there has never been a class at Dragonfly that I haven't enjoyed. Such a great variety of classes that no matter what class I attend, I always walk away feeling like I got a great work out. This brings me to the instructors. Dragonfly has some of the best instructors out there! Such a variety of personalities, style, talent and a wealth of knowledge. Dragonfly has done such a wonderful job making everyone feel at home and encouraged – Yoga is truly for "every body"! This is not just Dfly's slogan – this is truly the environment created by every instructor at Dragonfly.
Practicing Yoga at Dfly has done so much to help me emotionally, physically, as well as spiritually. It has helped ease my anxiety, cured the stiffness felt in my left hand, and helped me to realize that although I prided myself in being able to "do it all", I wasn't really present in any moment within my life. I had some changes to make, some things in my own life that I needed to let go and Yoga at Dfly helped me to recognize this. It truly set me on course to becoming stronger and living my best life. Realizing all of this couldn't have come at a better time as in September of 2013, my family experienced a terrible tragedy. For a few months after this terrible tragedy, coming to Dfly was the only thing that gave me peace and comfort. Clearing my mind and gaining new perspective through time spent at the Dfly Studio helped me to continue to get stronger for myself and my family. For this reason alone, I am forever grateful.
When sharing my experience at Dfly with friends and family, I often pose the questions…..Where else in our lives are we encouraged to clear our minds and listen to our bodies? Where we are praised for taking time for ourselves? Where falling is a good thing (provided you don't hurt yourself of course) as this means you have found your edge and now the changes begin. Where you are told that those things you may see as imperfections are actually qualities to celebrate as this is what makes you unique. Well, there is a place in my life that has brought about all of these great things……This place is YOGA at DRAGONFLY.
A couple of years ago, I decided I wanted to get my 200 Hour Yoga Teacher Training Certification. I began my training with another company out of California. I had completed Level 2 of my training when I heard that Dragonfly was offering a 200 Hour RYT (Registered Yoga Teacher) Training. I immediately switched gears and applied to attend Dfly's Training. What an experience! It's truly one of the best things I have ever done. Tiffany Geier, one of my favorite Dfly Instructors, led the training. She was OUTSTANDING! I learned so much about the practice and teaching Yoga, went deeper into my own practice, and most importantly I learned so much about myself. In my previous training, we had to go out on our own and find ways to get the required hours teaching to the public. Dragonfly rearranged their class schedules to allow us to teach free classes to the public in order to get those required teaching hours. This is just one example of how much support we received by everyone at Dragonfly. The bond that was formed with all of these amazing women I was with during this training is one that I will cherish forever. So what would I say to someone considering this training? GO FOR IT! Whether you are looking to teach Yoga, deepen your own practice, grow and learn more about yourself, or all of the above, this training is for you!
So to summarize…"Yoga is not a performance, it is indeed a practice." And such is life as we step off our mats. As long as we get up every day and do our best, who we are is enough. I thank Dragonfly through my practice and teacher training for helping me to truly realize this.
Instructor Tiffany Geier: "Lynn is one omazing woman. She approaches her practice with grace and dedication, and in return her growth has been boundless. Lynn will tell you that her favorite classes are Fire and Fusion, however she embraces all classes and all instructors, and clearly sees what each and every one can offer. The manner in which she faced Teacher Training was of curiosity and gratitude. Clearly teaching is something that is in Lynn's future, as she has so much to offer. It has been my privilege to work and be a part of Lynn's yoga adventure!"