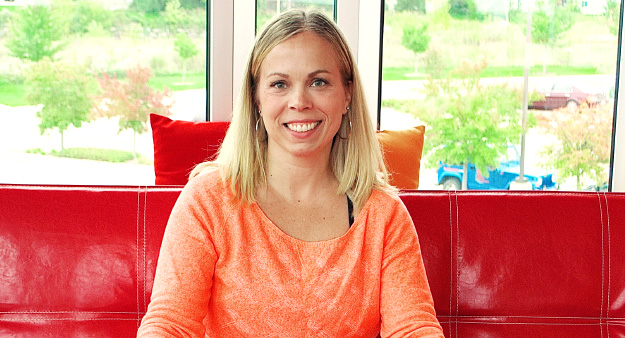 The fall of 2013 was rough- I experienced some personal and professional challenges that allowed me the opportunity to explore different ways to manage my stress, anxiety and weight more effectively. I knew something had to give and a friend recommended I give Dragonfly a shot. I purchased the Groupon and started on November 1st. Within 3 classes, I had signed up for the monthly membership and I have never looked back!
I had practiced yoga on and off, loved it but never found the environment that spoke to me, and allowed me to feel a sense of belonging. When I walked into Dragonfly, the warm, inviting environment was evident from the start. After a tough day at work, going to Dfly–I truly feel welcomed and that the staff is happy to see me there. I do not feel like just another name or body coming into a workout class. I feel that each of the instructors can see the strength and passion in each person and truly welcomes them to every class they attend.

I've worked out at gyms and practiced yoga sporadically, but never found a sense of belonging that I was looking for. Dfly allows me an outlet that provides a wide range of variety, without seeking perfection. It's okay to not be at the same speed, skill level, etc as others in class- it's about being yourself on your mat in that moment.
For me, my experience at Dragonfly has been transformational. Personally, my ability to manage my anxiety and stress levels is completely different than a year ago. Even my 12 year old daughter would attest to that! From a fitness perspective, I've been able to lose weight and maintain weight loss; I have struggled with this for years!
My overall goals for my well-being have shifted… I went from a weight focus to becoming more observant in my overall wellness. Instead of only thinking about how to lose weight, I've grown to focus on how to become leaner, stronger, faster and healthier for the long term. I have more energy now than I ever had before.
I've always been a risk taker… but taking the risk to join Dragonfly has completely transformed me in more ways than I ever thought possible. Through all the challenges over the last year, my time on my mat at Dfly has allowed me the opportunity to take time to step back and truly reconnect with myself. This year has been the best possible gift to myself. I've allowed my Type A personality to become more forgiving, understanding and tolerant of myself. I see a complete difference and change in my strength, flexibility, mental clarity, focus, relaxation, and depth of compassion for myself and others.
Dragonfly is practically my second home. I would be here every day if I could. As for a favorite class, it's too hard to choose. I love a strong flow class, BarreAmped shake to change, Yin, Power Up, Yoga Up, etc. I try to incorporate all of these classes or a good variety into my weekly routine as I truly love them all and can see and feel the benefits of a wide variety. And I love the instructors- from Kaila, Kim, Tiffany, Michelle, Carrie, Mairin, Erica, Jill, to anyone I haven't listed. The personality, energy, and warmth they each bring to class inspire and motivate me. My ideal week would be to attend a class from each instructor each week!
Take the leap and become a yoga teacher! I came into teacher training at Dragonfly nervous and excited. Right from the start, the environment we helped create within our TT was supportive, encouraging, safe and a team effort. I would do it again without question.
From the start, we were learning, teaching, and taking classes every day. We practiced to each other and had the opportunity to teach live classes. We had instructors at Dragonfly come in and guide us through workshops, who took the time after class to sit down with us and discuss their path to yoga, challenges and what they are passionate about. We had the opportunity to experience all the classes offered at Dfly. Our Teacher Training built a strong sense of community and a safe environment, which allowed us to make mistakes to learn from and have fun. I still carry that feeling with me today.
Through the training, I have more passion for yoga than I thought possible, great friendships I will cherish, knowledge and excitement to teach others about yoga, and incorporating my passion with yoga into my life. I look forward to incorporating my teaching style at Dragonfly as well as continuing my practice here.
Instructor Tiffany Geier: "Tami was the first person to sign up for our 200 hour Teacher Training within minutes of it becoming open! Since that day, she has approached her practice and then her training with dedication, enthusiasm, and an open mind like no other. Her thirst for knowledge continues to grow in her practice, and her training, as she is also a newly certified BarreAmped instructor! It has been an absolute honor to work with this omazing woman. I have learned so much from Tami, I look forward to seeing where her path takes her next, she is unstoppable!!"