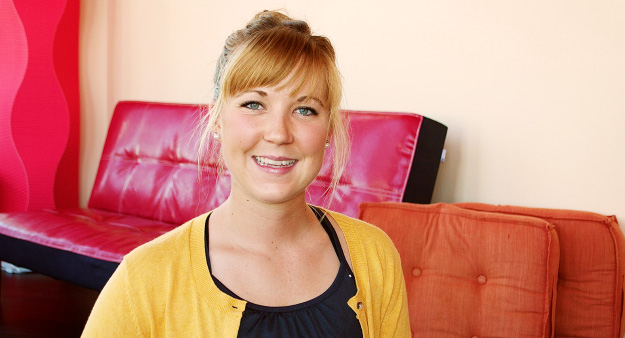 I started Dragonfly a few years ago when I first moved to Madison and was looking for somewhere to practice. I was thrilled when I found out there was a studio less than a mile from my house! Before Dragonfly, I had been to a few yoga classes here and there, but had never found a place that I loved. The first class I signed up for was a 90 minute Fire class, and I remember how nervous I was – especially since I had never done hot yoga before. The instant I walked in, the staff eased my nerves. Everyone was so welcoming and they made me want to keep coming back! I've been hooked ever since.
I love the warm and inviting atmosphere Dragonfly offers. Despite having two locations with classes running all day, Dragonfly feels like a small community. From the wonderful front desk staff who greet you by name, to the instructors who stay late to help you work on a pose or answer a question. Everyone feels valued and part of the Dragonfly family.

Since joining Dragonfly, I have noticed a huge change in both my mental and physical health. Between working in the hospital as a clinical research coordinator, taking random art classes, and playing various sports (soccer, ultimate frisbee, and volleyball), life can get a little crazy. Dragonfly has offered the perfect balance for my schedule. My strength and flexibility have improved tremendously and I always leave class feeling refreshed and ready for what the next day has to offer.
I try to come to Dragonfly as often as I can. It's become a great way for me to forget about all my "to do lists" and decompress. There is such a wide variety of classes and there is always something that helps round out my day. If work's been stressful, Flow feels amazing. If I'm sore from sports, Yin is perfect; and if I still have energy to burn, there's always Barre or MadPower. It's hard to pick a favorite class – it really depends on the day… although MadPower the other night lit only by glow sticks was pretty amazing.
I am so happy I was able to find Dragonfly! It made my transition to Madison so much easier. I look forward to continuing to grow in my practice and am honored to have been chosen as Middleton's Yogi of the month.
Instructor Michelle Schneider: "Mandy is a gem here at Dragonfly! She always wears a smile and her practice shines with grace, focus and a determination to experience the process. Plus, she kills it in BarreAmped; whenever she is challenged she exceeds my expectations and inspires those around her! Thank you so much for being such a great part of our community here at Dragonfly! Namaste.