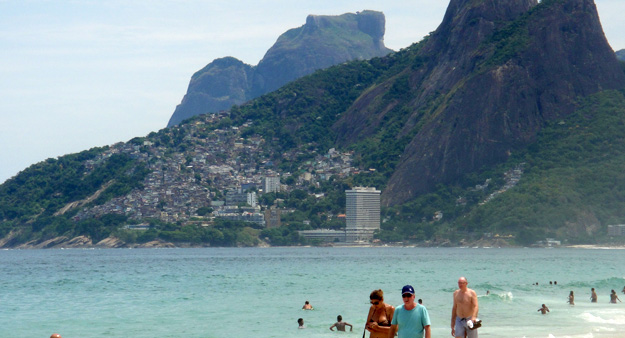 Greetings from South America!
This morning finds me in a tiny apartment with nine people, all of whom slept here overnight on couches, beds, mattresses and any cushion they could find after celebrating the first night of carnival in Rio de Janeiro.
My wife and I arrived in Rio in the wee hours of Wednesday morning and crashed at her aunt's apartment in Botafogo near Copacabana beach. After a few hours of sleep and a delicious Brazilian breakfast we hit the beach.

Since we arrived you could feel the energy and preparation of nation-wide party about to rip open. Every store had promotions for food, beer, soda and other necessities for carnival. Street vendors switched from selling fruit and drinks to selling costumes, people began playing samba music from their apartments, a giant wave of energy was about to swell over the city. That wave crested last night with the first evening of "bloco's" or street parties. Carnival is known for the big samba parade, but most "carioca's" as natives of Rio de Janeiro are known have never attended the parade before. Most people go their favorite bloco's with friends, family and neighbors. The bloco's are organized by the city and have bathrooms, food, drinks and music.
We went to the Leme Bloco last night which is at the end of Copacabana beach. It was the biggest, loudest and craziest outdoor party I have ever been to, and our family that we went with said it was "dead" when we got there. I can't imagine what a "live" party will be like. The energy was amazing. Four thousand people dancing to a samba band, drinking beer, shouting, laughing and partying on one of the most famous beaches in the world.
I have been missing my Dragonfly family, and my cats, but it has been great to disconnect and enter a totally different reality and way of living. There are so many different ways to live, and I don't believe there are any rights or wrongs, but it is great to be exposed to different ideas and reevaluate relationships to material things, family and friends. Normally when I travel I feel extremely fortunate with the life I have, while picking up a few things from the other culture that I want to incorporate in my life. Traveling is similar to yoga in that way. As a yoga student, when I take classes with different teachers I don't change my practice entirely based on their class, but I almost always pick up a couple of nuggets of yoga wisdom to add to my practice. One thing I will definitely take away from this experience is how humble and amazing our hosts have been. As I write there are 8 people in the house, eating, drinking, laughing; bags, clothes bath kits, towels, swimsuits spread all over the place in a 500 square foot apartment. I haven't heard a single complaint or gripe about the conditions from a single person. Everyone is happy and having a great time!
My wife is from Brazil, and we hardly ever make it down here to due to the cost. Staying with Iza's aunt has been great as we have been able to raid her photo albums and video collection to find photo's of Iza in her early childhood. I'll leave you with a picture of her and her cousin Ivan at a carnival party, 26 years ago today.