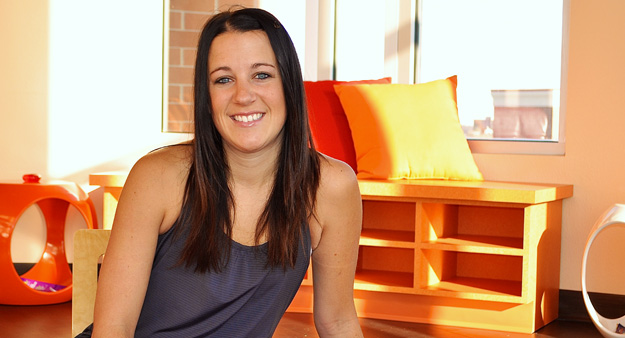 In April of this year, a couple months after my dad passed, I knew I needed something to keep me physically healthy and keep my mind healthy as well. I knew yoga was the way to go because I had tried it in the past and knew how good it was for BOTH mind and body. So, I started at Dragonfly because I knew Dfly had the Barre classes as well and was dying to try one. That Barre class led to a few Fire classes, Flow, Fit and MadPower; before I knew it I was hooked! 
Prior to Dragonfly I had done a few hot yoga classes in 2011 to de-stress leading up to my wedding and I had a few yoga DVDs at home that I did in my living room every once in a while. I enjoy everything about the classes. The staff always greets me with a smile and by name; the instructors are SO helpful and easy to approach not to mention motivating. And I love the variety! I see such a difference in my strength, muscle tone, etc.!

I have noticed huge changes since I started attending Dfly and my family has too! I am a happier, calmer person with more confidence. Prior to Dragonfly I was struggling with stress and struggling to deal with the emotions of losing my dad. I was struggling with low self-esteem because my weight would yo-yo because I never found a consistent form of physical activity. After just a few weeks at Dfly, I noticed a HUGE difference in my overall health. I was MUCH less stressed, I had confidence in myself and I found myself not only wanting to go to more classes but wanting to try more outside of Dfly too. For example, this summer, while going to classes at Dfly and increasing my strength as well as confidence, I ran 8 running races, including a half marathon (and trained injury free thanks to many flow classes!), tried long Kayak and Paddleboard trips, and took on long hikes and 15 mile rollerblading adventures with my husband. 
I attend classes around 5-6 times a week with my sister Lindsey. We have so much fun fitting in as many classes as we can and motivating each other! Dragonfly really has been a huge part of why I made it through this year with a smile on my face. I am so grateful I found Dragonfly! 
Instructor Amber Thompson: "Katie has the best attitude during class. I enjoy her willingness to try our different classes and teachers."