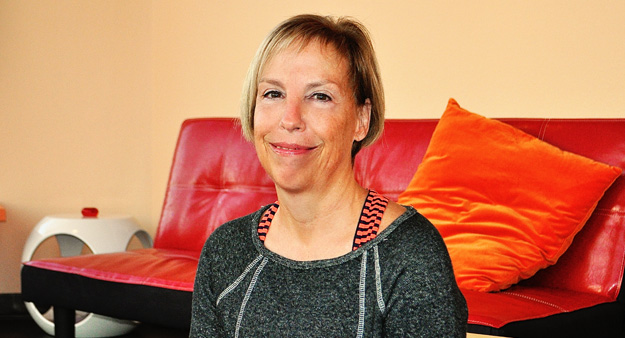 I was looking for a gentler workout, my step daughter suggested Hot Yoga and Dragonfly.
I had no experience with Yoga and was a bit intimidated by it. I felt I wasn't flexible enough. I really couldn't touch my toes when I began! I was hooked after my first class. The heat is also very comforting to me. 
I loved the atmosphere at Dragonfly immediately. As an Interior Designer I love the way it looks. (Important to me.) The staff is open, warm and friendly. I like the diversity in the age of the members, the many class choices and the great instructors. 

I feel like I'm taking care of myself for the long term with yoga and all the other classes I attend at Dragonfly. I want to be just like my Mom, at age 83 she is still attending exercise classes 3x a week!  
I really try to attend 6 days a week. I don't have a favorite class; MadPower, Fit, BarreAmped and Flow are all my favorites. I very much enjoy taking classes from Amy and Tiffany, as their energy is contagious! For Flow class Suki is so calm and a true teacher.
Instructor Tiffany Geier: "I absolutely adore Ann, whether it's watching her flow in and out of poses with beauty and grace, or seeing her strengthen and tone in Fit, she is inspirational! I am honored to be part of her experience here at Dragonfly."