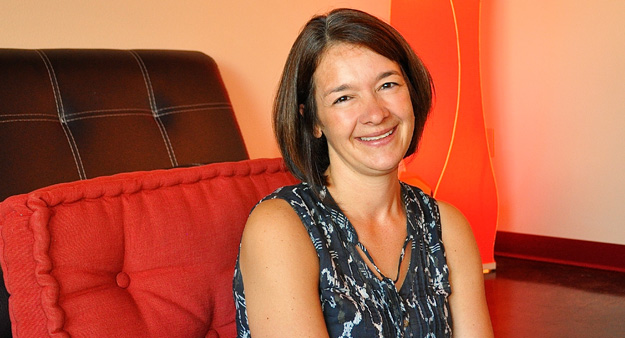 I give credit to my dear friend and yoga sister, Sonia Sieben, for launching my Dragonfly addiction. For a couple of months, she tried to get me to join her for a class. At the time, I had been running quite a bit and consequently feeling pain in my knees. I thought that yoga and heat might offer some relief. I really had NO idea that in just a few short days I would be hooked!
I didn't have any personal yoga experience before last July. It seemed like every person I knew who was going to yoga, had already been practicing for years! I assumed because I'd NEVER done any yoga, that I'd missed my window of opportunity! I was intimidated; but the staff was incredibly friendly and encouraging. They made me feel so welcome, and I quickly found my own personal stride at Dragonfly.

I love the entire Dragonfly experience each and everyday! When I walk into the warm, beautiful studio my mind and body are programmed to release the stresses and distractions of the day. This is time carved out just for me to relax, to focus on breathing, and to enjoy the music and fun ride that the fantastic instructors lead us on.
I have definitely noticed an improvement in my total well-being within the last year, thanks to yoga! I've also learned that I am stronger than I thought. I find I am much more relaxed and able to deal with stresses that come up. I know my family is thankful!
I've found myself feeling best and happiest if I can get to at least 5 classes a week. I love the menu of classes that allow me to find a class that's based on what I am in the mood for, be it a meditative, relaxation, or a physical challenge- where I will be encouraged to "find my edge." (Thank you, Tiffany!) My favorite classes are the flow classes, and I LOVE the variety of the instructors' styles within.
Instructor Tiffany Geier: "Bobbi's yoga practice is inspirational. She is so very strong, yet graceful; playful, yet focused. She has grown tremendously, and I feel very grateful to be part of her journey. I can't wait to see where it takes her next!"