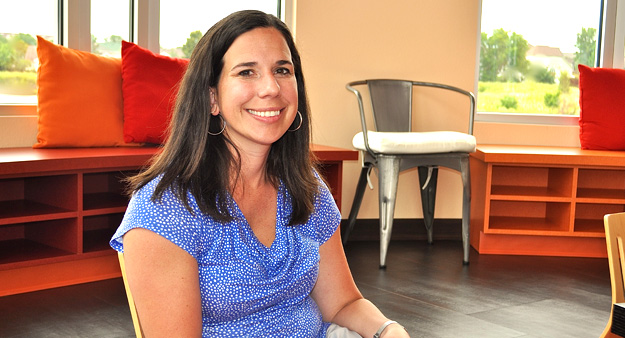 I have always loved to exercise. Prior to Dfly, I had been attending a 4 day weekly boot camp. Unfortunately, due to a significant knee injury I suffered a number of years ago, after 8 months of camp my knee had enough so I began looking for an alternative form of exercise.
My yoga experience prior to Dfly was just a few classes here and there at a gym in Minneapolis. What is awesome about Dfly classes is the continual challenge for my body; each class/practice is an opportunity to push myself further than I thought I could.

Being an athlete most of my life and being super competitive, I got used to pushing and sacrificing my body without care or concern for it. Through yoga, I have developed awareness of what is going on with my body along with awareness of my thoughts and others around me. This awareness has transcended into my daily life helping me to eliminate negative thoughts, making me a positive and happier person. It has also helped to alleviate my knee pain!
With two little ones at home and a demanding career, my schedule is limited. I try to attend class whenever I can. My favorite classes are Suki's 5:30 am Flow class MWF and Amy's booty kicking MadPower 12:30pm class Tuesdays and Thursdays. When I first started Dfly, I was intimidated. My practice was centered on what I am doing wrong. Eventually, I learned that giving myself permission to laugh rather than blush when I make a mistake makes a huge difference. Finding joy in my practice has made a world of difference by bringing joy into everyday life.
Jessica, your dedication and determination are impressive! Congratulations!