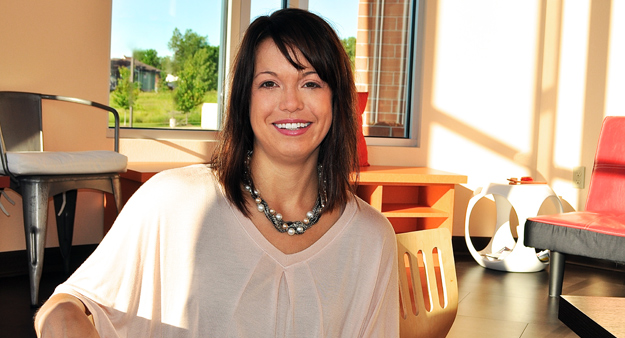 I started at Dragonfly sometime in January with the intention to keep myself in shape through the winter. I have always been a runner but I admit I am a fair weather runner – a true runner should run through any weather (at least that is what I am told) – but I don't. I despise running in the winter, it's too cold! So when I started at American Girl and didn't have the luxury of a fitness center at my disposal, I looked for alternatives to keep me fit through the winter. I had done hot yoga before but it was almost four years ago and I was only able to go about once per week. Dragonfly in Middleton was now convenient for me and I thought if I could go a couple times a week I could keep my anxiety in check and stay fit. It turned out to be a whole lot more than that.

I have experienced so many changes in myself beyond physical fitness (a bonus of course). I recently completed my 30-day and 60-day challenge because I can't turn away from a challenge and am well on my way to complete the summer challenge. My goal is to continue to attend Dragonfly at least 5 times a week now. Summer is here and I enjoy so many outside activities but now I want to balance it all, as I can't turn away from practicing yoga on a regular basis. I have just found so many benefits mentally and physically. I am able to control my anxiety, which does wonders for my mood and I just feel better all-around from a regular practice.
My favorite class, if I had to pick one is Suki's 5:30am Flow classes. It is an amazing start to my day. It's early and I am exhausted but I never regret it. By the end of class I am ready for whatever challenges the day brings. I enjoy so many other classes as well as the fact that there are so many to choose from AND each instructor's unique teaching style. Tiffany has so much energy- it is infectious and just what I need for a laugh on those days that are slightly harder than usual. Her 'maybe's' not only challenge me to take a pose to the next level but also to laugh at myself when the result is me flat on my mat. It keeps me curious and pushing my body & mind to its edge.
Most importantly I have learned to "Just Breathe". I still think it sounds cliché but I would be lying if I said I didn't do it on a daily basis. I often joke I would do Child Pose at work if I wouldn't get so many funny looks. :)

Congratulations Cassandra! We all thank you for sharing your dedication and determination with us!