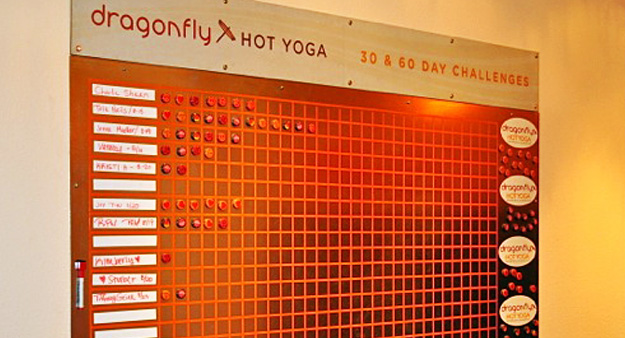 Q: Hey Dfly, How did you make that 30/60 day yoga challenge board that you have at the Middleton Studio? Also, where did you get that awesome huge metal Dragonfly behind the desk?

A. Glad you asked! Our one-of-a kind Challenge Board at our Middleton location was created with a joint effort by Dragonfly graphic designer Katie U. and staff member Inge S. Inge worked with Madison metal fabrication company, Sparks N Splinters, to get both the Dragonfly symbol and challenge board sign. The board is galvanized steel so it's magnetic and won't rust. Katie then meticulously created the grid using special orange tape, a pencil, a metal ruler and lots of patience. Wow! All that was left to do was to get some custom magnets made, hand it over to Inge for mounting & hanging, and voila – the best challenge board ever!
For the Dragonfly, Sparks N Splinters again came to our aid, precision cutting the logo out of a piece of aluminum and welding hanging brackets onto the back. Inge and her husband then attached orange rope lighting with clips & epoxy, and there you have it! Instant icon.
And look out Fitchburg! Your very own custom Challenge Board is coming real soon. Keep your eyes peeled!