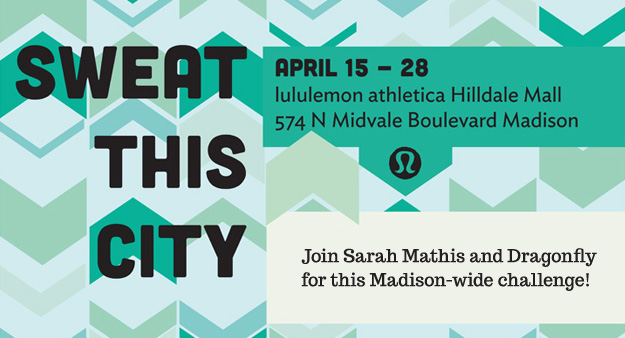 Sarah Mathis is a lululemon ambassador and kickin' Dragonfly instructor! We are excited to team up with them and offer the opportunity for you to take one FREE class with her, including our super popular BarreAmped classes!
So get sweaty with Sarah and lululemon's 7 other ambassadors! Lululemon is giving the gift of fitness to you by offering 1 complimentary class per ambassador from April 14th-28th. To participate, stop by their Hilldale Mall location to pick up a "sweat this city" class card! The challenge is to attend 8 fitness classes in 14 days, 1 class per each of their awesome, exciting, and inspirational local ambassadors. Upon signing up for the challenge, you'll receive a "Sweat This City" card, which will be your golden ticket to the complimentary classes during the challenge and also a log of your progress in completing the challenge. This challenge is for EVERYONE – current and new students!

lululemon is located in the Hilldale Mall
574 N. Midvale Blvd. | Madison, WI 53705
Hours: Monday – Saturday: 10am – 9pm | Sunday: 11am – 6pm
To sign up for one of Sarah's classes, please call Dragonfly at 608.203.9000 to register. You must be on Lululemon's "Sweat This City" list!
Dragonfly members: To attend the special "Sweat this City" classes please sign-up for the Sweat This City promotion at Lululemon OR just show up for the class to see if there's room! You can always call the studio the day of class to see how full it is.
Sarah teaches BarreAmped, Flow, and Fit classes here at Dragonfly Hot Yoga. BarreAmped is an amazing workout and we are Wisconsin's only BarreAmped licensed studio, so you do not want to miss out on a chance to try a FREE BarreAmped class!