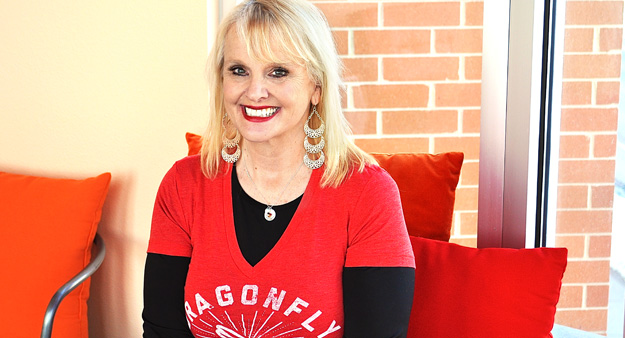 Susan began this journey when her daughter gave her a yoga mat and a Dragonfly 10 Class pass for Christmas…
I was a total beginner before Dragonfly. In October, a friend of mine kept asking me to join her at Dragonfly but I could not imagine doing yoga in a hot room and sweating…I kept saying thanks, but no thanks, even though the tea room sounded intriguing. After Melissa gave me the Christmas present, I threw caution to the wind. I try to keep an open heart to new ideas, so I mustered up my courage and came in for a 5:30 am Flow class with Suki in the beginning of January. In September I attended a meditation conference in the beautiful Rocky Mountains in Colorado….the keynote suggested to me that yoga would be a wonderful enhancing addition to my meditation practice. Never did I imagine what was waiting for me at Dragonfly!

The first thing I noticed was the warm welcome, albeit at 5:30 in the morning or whenever I come to practice. Those first classes were difficult and a little intimidating, so the kindness and welcome of those first days will be always appreciated.
I am so grateful to all the teachers. I especially appreciate their encouragement and reassurance to try and that there is no failing. The musical selections are great (especially Katie's) and they really add to my yoga experience. Music can make the session fun, energetic or enhance my practice meditatively. The reminders to breathe, straighten, stretch, push, as well as the "try its, maybe not nows, maybe somedays"…usually are just what I'm needing.
I have enjoyed the tea room after many practices. It is very nice to top off an awesome class with some tea time. Visiting with a new yoga friend or a partner I practiced with is just so nice. Thanks for the special teas you provide.
Sometimes I need to shower before going into the office. Everything is super clean, comfortable and user friendly.
I am also very happy with the number and variety of classes offered…I really like to get in super early for the early, early classes. There is always a chance to fit in a class and this helps to keep up a regular practice. It seems no matter what difficulty level the class, the teachers help the students adapt their practice to any limitations, injuries and skill levels.
Some changes I've experienced since starting my yoga journey: increased energy, greater mobility, and strength. For the first time after many years, I am able to fit into my wedding dress! I am thrilled! I surprised my husband last week with it…I only wish I could have discovered Dragonfly a long, long time ago. In better weather I am an avid hiker and with Spring coming, I am anxious to compare my fitness level now with my pre Dragonfly days. Since Dragonfly, my clothes fit so much better…I have lost a significant amount of 'belly fat'. I feel so much better in my skin.
Besides the physical improvements, Yoga enhances my meditation and spiritual practice. My breathing and ability to let go of negative thoughts have significantly improved. Having a psychotherapy practice, I am now encouraging my clients to add yoga to their treatment plan.
All about Susan:
My husband, Steven, and I have been together for 24 years. He is my soulmate…we really got it right the second time around. I am the mom of six, five daughters and a son and I also have two stepsons. We live in Mount Horeb. Since 1997, Steven and I have been Dane County treatment foster parents to 81 teen boys. This is both challenging and rewarding. We usually have three to four boys in our home…some for years, some just a few months until they can get back to a more stable home situation.
I love gardening and beautiful color. We love music and movies, especially at Sundance. My husband is a foodie from Massachusetts and he loves to cook, thankfully our foster boys and myself are the beneficiaries. I love sports, especially the Packers and Badgers and watching my Grandkids (there are 17 of them) play football, basketball and soccer. We have a wonderful log home built by my Dad on a great little lake in the town of Rome. We spend lots of time there.
After my kids were older, I went to UW Madison and studied psychology. I work as a psychotherapist with adolescents, adults and couples. I have had a practice in Hilldale for twenty years.
The highlight of this past year has been that in May I was able to donate a kidney to my husband, Steven. It was so miraculous that we were a match and we look forward to healthier years ahead. Yoga has been a perfect way to get fit after our surgeries.
I just want to be very clear, I am the most incredibly 'rich' 64 year old woman! My kids are amazing good people, my precious grandkids and our foster sons have added infinitely to my life. I have super wonderful friends and my husband is the smartest, funniest and most loving partner I could EVER wish for. I couldn't imagine adding to all this but Dragonfly indeed HAS! Thank you so very much! I am truly blessed.