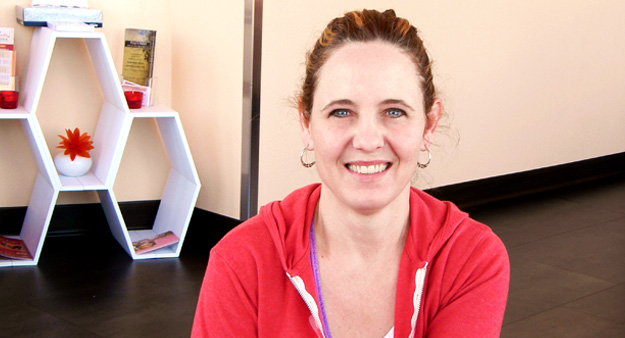 I started going to Dragonfly in August of 2011, the first summer you were open. I first heard of Dragonfly through my daughter and her friend who both wanted to try it as well. I was intrigued, so I tried it too and I have been hooked ever since. I remember driving home after my first class thinking, "I feel amazing and I am already hooked!"
Before Dragonfly, I had very little experience with yoga. Over 10 years ago I took a 6 week course at the YMCA. I really enjoyed it and found that it helped with some lower back pain I had been experiencing after my 3rd child but was never able to find the time to pursue it any further.

My favorite thing about Dragonfly are the wonderful, knowledgeable, dedicated, passionate, caring, compassionate instructors. I was very intimidated by the thought of going to a studio because I am not very flexible and had very limited experience. I expected everybody there to be super yogi's and I was afraid I would make a fool of myself. What I found when I went to my first class was the complete opposite. The instructors were and are welcoming and encouraging. They are very accepting of all body types and all levels of yoga experience.
Also, I love the heated studio! In fact, I don't even think I would want to practice yoga if the room wasn't heated. I love to sweat and the feeling I get when I have completed a class. Since starting my practice at Dragonfly, I notice that I am much more calm in my day to day life. I tend to be a little type A, and yoga seems to calm me down and makes me less likely to stress out or get annoyed at the little things that really don't matter in life.
I try to attend classes daily, or at least 5 times per week. My good friend, Bobbi White attends classes with me. She joined last summer and having a yoga buddy to go with really has helped me to practice more often and keeps me motivated! So motivated that I have completed a 30 and 60 day challenge.
I really love you all and I am very grateful to Dragonfly for giving me the confidence to learn and continue to grow in my yoga practice. I have noticed improvements in my flexibility, strength, and body tone. I can't begin to express how much yoga has helped me in my day to day life. Yoga truly is part of my life now, and one that I can't imagine living without.
"Thank you Sonia! We love seeing you take advantage of the wide variety of classes we offer. It is pure joy having you a part of the Dragonfly Community!"