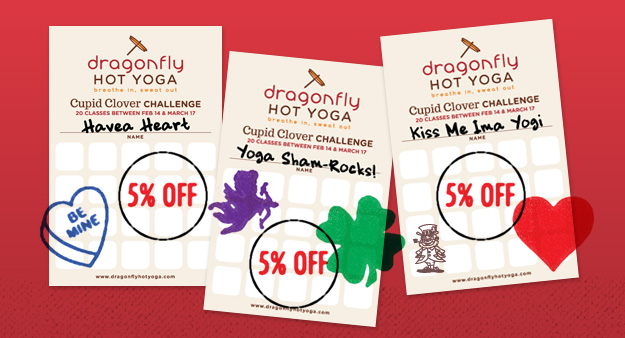 Challenge #1: Love Bonanza
Attend at least 3 classes Feb 16 — 24 & get up to 40% Off!
It's that time of year where love is in the air, and we are giving the love back to you! Attend at least 3 classes during Feb 16 through Feb 24, get your card stamped, and each stamp is worth 5% off your next purchase! The discount is good for 10 and 20 Yoga Class Passes, 10 and 20 BarreAmped Class Passes, or Dragonfly T-shirts and sweatshirts. Limit is 40% off (8 visits), but don't let that stop you from coming every day. :)
Challenge #2: Cupid Clover
Complete 20 Classes between Feb 14 & Mar 17
The last few weeks of winter can be a real bummer. Join the Cupid Clover challenge to help you stay motivated and feeling great as we transition into Spring. Can you do it? Join us! Grab a card at the front desk and after class starting February 14, get your card stamped with one of our stamps! You can do the Cupid Clover Challenge and the Love Bonanza at the same time.