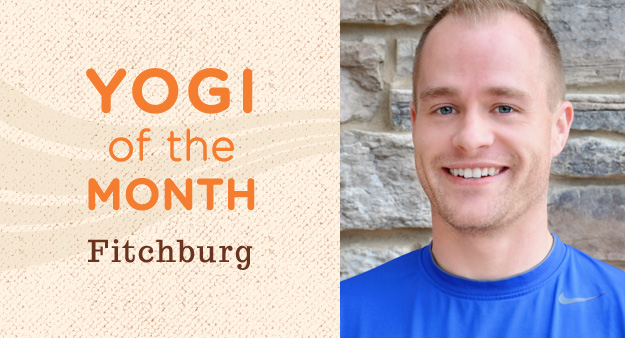 Ever since Paul Hale saw our banner in early June, he's been a regular fixture at Dragonfly Hot Yoga's Fitchburg studio. About four days a week, Paul makes the 5:30 PM class a priority in his busy life. He loves the variety the 5:30 time slot gives him, as he's able to try a few different styles of yoga. "I'm addicted," he says.
Paul has been one of our best ambassadors, recommending friends, partners, coworkers to the hot room. "It makes me feel good, I want to help others feel this way. My friends say I'm never in a bad mood."

Paul carefully plans his time, working as a Vice President of Operations in Finance traveling to 40 offices in the state during the week. He also shares custody of his five children 50% of the time. Paul says that hot yoga has helped him to manage the demands of such a hectic lifestyle. "I feel more relief from stress. I'm toned and healthy, sleeping better, and my lower back is much better. I haven't been to the chiropractor since I started hot yoga."
Originally from Idaho, Paul has lived all over the country. He moved to Madison eight years ago and says Madison is his favorite. Paul, you're one of our favorites too! Congratulations and thank you for making Dragonfly Hot Yoga a part of your life!