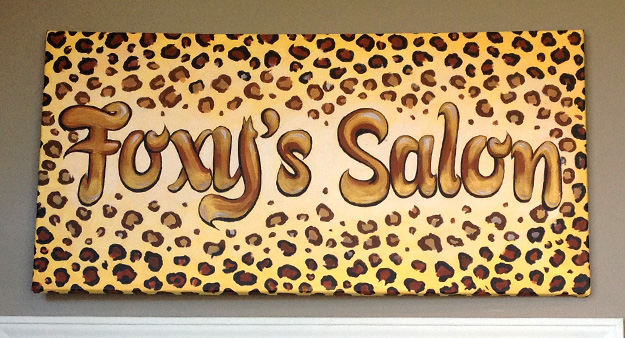 Foxy's Salon is located in the same building as Dragonfly Hot Yoga's Middleton location just down the hall! We love having owner Pam Fox as a neighbor and chatted with her about her business and her love of hot yoga.
Dragonfly Hot Yoga: Tell us a little bit about Foxy's Salon. How long have you been in business?
Pam Fox: Foxy's Salon Hair & Wax Specialist opened August 15th, 2011. At Foxy's Salon you will enjoy a warm relaxing experience with a full range of Salon and Spa services. Foxy's Salon features products from Moroccanoil, Redken, Sexy Hair, and many more quality professional lines. My passion for the hair and beauty industry started at a very young age, with a mini "Foxy's Salon" inside my Barbie Doll house full of cut and painted Barbies! I moved on to getting my Cosmetology degree directly after High School, and have worked in Madison as a professional Cosmetologist for 10 years. Helping people feel good about themselves and brightening their day is what inspires me everyday to grow and expand. I am blessed to have such a wonderful career and great clients to share my dream with.

DHY: What is your typical client like?
PF: My client ranges from all ages, to the baby 1st haircut! to my great grandma 91yrs young. Most of my clients are between ages 25-45 yrs. Everyone is welcome at Foxy's Salon!
DHY: Have you tried hot yoga? How does it help you with your stress level in owning your own business?
PF: Yes I have tried Hot Yoga, and Love It! Before Dragonfly opened and meeting Megan Ryan, I would never have tried Yoga, especially not Hot Yoga. I have been severly anemic for a few years now and have always thought Hot Yoga would be too much for me to handle and I would hate the high heat while working out, but it hasn't been a problem at all, it's actually helped! I have been a runner for a few years now and always thought Yoga would be too boring and something I wouldn't like, but I was so wrong again! Yoga has been an eye opening experience and has really helped with my overall health and well being. Yoga has improved my running, flexibility, strength, and even my mind/mood! Out of the 3 different classes I have tried, I really like "Fire" with the fabulous instructor Natalie Buster!
DHY: We love to give shout outs to female-owned businesses. Any words of advice for women who want to start their own business?
PF: The future belongs to those who believe in the beauty of their dream. Follow your dreams and stay true to yourself.