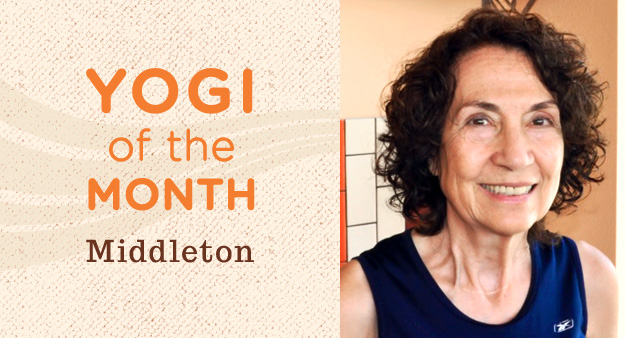 Doreen moved to Middleton in January and was thrilled to see our "Opening Soon" sign. She could not wait for us to start classes. Needless to say she helped celebrate our opening by attending the Grand Opening classes. Her first class was Introduction to Fire. When asked about her thoughts on the studio she shared this, "It is the most beautiful studio I ever, ever, ever practiced in. I love the floor, it is not stinky!"
She practiced Hot Yoga previously in Arizona, on her son's request. She loved how cleansed she felt and the feeling of everything leaving her body. She finds bliss in Savasana.

When first practicing she wanted to be more flexible, but little did she know the adventure waiting for her. At first she felt a need for perfection, she then learned to celebrate every inch she could find/feel/move.
Doreen was diagnosed with breast cancer in 1996 and bone cancer in 1997. Cancer was reoccurring in 2007 and 2011. She expressed she needed to come to terms with the Cancer. She is grateful for what she can do- she can come here. Hot Yoga has helped boost her inner strength.
When she feels crappy or angry at treatments she asks herself, "what can I do?" She answers with, "I can go to Dragonfly". And after class she asks herself "Now what was it that was bothering me?" She associates her hot yoga practice in this way, "It's like coming home to me."
Tola Neils and Natalie Buster nominated Doreen Pritts:
Doreen simply inspires us. We thank her for sharing her determination and being a special symbol of strength in our lives.