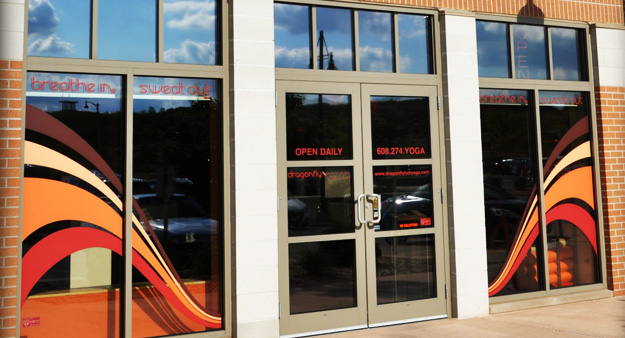 When you come to take a class at Dragonfly Hot Yoga, you can't help but notice the floor to ceiling windows in the studio and the lobby. It's what makes our studio stand out from others…that natural light. It takes a special company to keep those windows sparkling clean so yogis can get that feeling of natural light. Some yogis even say the windows and the light that comes in makes them feel as if they're practicing yoga outside. We sat down with Scott Thompson, owner of Scott's Window Cleaning and Pressure Washing Service to ask him about his business and his relationship with Dragonfly Hot Yoga.

Dragonfly Hot Yoga: When did your business take root in Madison?
Scott Thompson: It's been about 12 years now. My son was young. I needed to find another job. I worked various places part time. I found a full-time job, working for a factory providing janitorial service. And one day they asked me, "Scott, do you want to go outside and clean the windows?" A new opportunity opened up then.
DHY: What makes your business stand apart from other Window Cleaning services?
ST: Word of mouth, speaking to people. I was hired by a mattress place who said if I do a good job, they will give me a reference. Word spread. I do some advertising but most of the time I try to focus more on testimonials, word of mouth. The main thing I believe: try to treat people right. If you're false on what you're doing people can pick that up. If you're doing it from the heart, people feel that. I treat people like family when I come in to their location.
DHY: How did you come to have a relationship with Dragonfly Hot Yoga?
ST: I came in when Dragonfly was just opening up, just walked in and introduced myself. The friendliness and the compassion that you guys had, you gave me the opportunity. From that moment, it led to relationships with other area businesses because I mentioned your studio. I like to come in to Dragonfly, I like to give Megan a hard time.
DHY: Will we see you in the hot room soon?
ST: Well, soon hopefully soon. I'll definitely come in there. It'd probably be a good thing with me working outside. I like the heat somewhat, but you know, if it's gonna benefit my health, I'm willing to go in there.