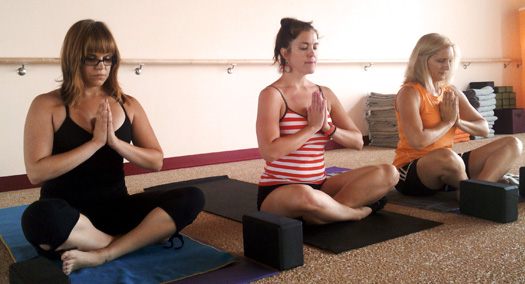 For me, yoga is a way to be with myself for an hour. No obligations, no expectations. Just me and my breath. I have to admit that at first it wasn't always this zen-like of an approach. I did it to lose weight, I did it to show off my dancer abilities, I did it because I felt like I had to. While all of these approaches can be valid, nothing compares to the feeling of serenity and calm I get at the end of a good yoga practice, whether it be a sweat-inducing Baptiste Flow class or a chill Dragonfly Yin class.
What does your yoga practice mean to you?

Genna Z says, "After my first class at Dragonfly, I knew I had found my place. I have been practicing yoga for 7 years at various studios and at home. We moved to Fitchburg last summer and what luck to have Dragonfly open at the same time! The warm and inviting attitudes of all the instructors and staff will continue to bring me back. I am a busy working mother of 3 active boys and I realized years ago, that I needed to do something for my body besides running. I am more flexible, relaxed, balanced, strong, and calm because of my yoga practice. Everyone in my family knows that Monday nights are for me and my yoga. I would love to be able to attend more than the 1-2 classes per week that I do, but my schedule doesn't allow it, so I breathe deep and do my downward dogs at home when I can. Yoga enters my work life as well. I am a Physician Assistant in Family Medicine and a part of my job is performing annual physicals for my patients. I am constantly discussing healthy lifestyle and exercise, and I strongly encourage yoga to many of my patients. I hope I have been able to convince a few of them to consider the amazing benefits that I have experienced from yoga."
Wendy B says, "Yoga is my long lost love….the "thing" I know…the "thing" I'm good at….compared to the other activities I do. ;) I've been trying to work on my strength this past year and listened to my coaches' advice and put yoga on the back burner for now, while I strengthened my hip flexors especially for lifting. I went back for the first time yesterday in months and could certainly tell I am tighter than I was before. I think I can combine some yoga again with my other sports! Yoga is my comfort zone! ♥"
Annita W says, "It's an acceptable way to make 1.25 hours all about taking care of me, me, me!"
Tiffany Ann G says, "Finding yoga this year was like finding money in my pocket, I had no idea was there. It has given me a strong sense of exhilaration, a feeling of what am I going to do next with my new found "treasure.""
Well said, ladies, well said.