We are open with online classes!
In-person classes temporarily suspended due to county order. We miss you!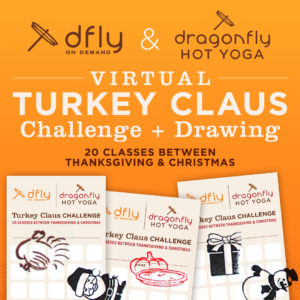 20 Classes between November 26 and December 25, 2020
Virtual on dflyondemand.com
The Turkey Claus is back – virtually! This time of year is busy, and it can be easy to leave our self-care routines on the back burner. This year it is even more important to keep up a consistent yoga and fitness routine to keep your mind and body healthy. Enter the Turkey Claus Challenge – 20 classes between Thanksgiving and Christmas. Can you do it? Let's yoga!
Screenshot our challenge card from our facebook or instagram posts, or download a challenge card here and get started November 26! Have some fun and fill out the squares after you attend class on Dfly On Demand!
Once you've completed your challenge, email a photo or screenshot of it to info@dragonflyhotyoga.com. All finished entries will be entered into a drawing for a free Dfly retail item!
Sign Up >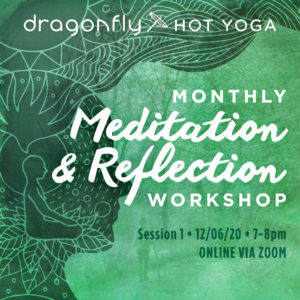 The benefits of a regular meditation practice are many: it can reduce stress and anxiety, improve sleep and mental health, and may even improve physical conditions like high blood pressure, chronic pain, or gastrointestinal issues. In these times, self-care practices like meditation are more important now than ever!
Drop in and join Suki Warda this winter to virtually meet, learn, and connect through meditation and reflection. Meetings are planned for the first Sunday of each month from 7-8pm CST. Every month there will be a different focus, so feel free to try one or try them all!
Each all levels 60 minute session will include a discussion, meditation, and time for Q&A in order to gain understanding, grow seeds of insight, and strengthen mental muscles. Zoom links will be sent to you an hour before the workshop starts.
Sign Up >