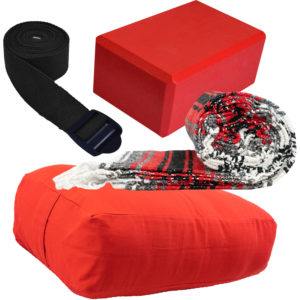 Yoga Kits and individual yoga supplies now available in our online store for your in-home or in-studio practice!
Choose between 3 different yoga kits that include some combination of mat, block, blanket, strap and bolster, or pick and choose individual items.
Yoga Kit 1: Strap/Blanket/Block $40.00
Yoga Kit 2: Strap/Banket/Block/Mat $65.00
Yoga Kit 3: Strap/Blanket/Block/Bolster $90.00
Orange Hand Towel $1.90
Solid Black Yoga Strap 10′ $10.00
4″ Foam Yoga Block $12.00
Handmade Traditional Mexican Yoga Blanket $25.00
Dfly Basic Yoga Mat $30.00
Supportive Rectangular Cotton Yoga Bolster $55.00
IN-STUDIO PICKUP ONLY: Place your order now and pick it up when you come for class! Not ready to attend in-studio classes quite yet? Call/e-mail us to set up a pickup appointment.