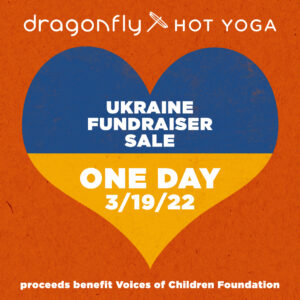 Get 10 Class Passes for only $99
and/or
Get 3 Months of Online Classes for $20
One Day Sale 3/19/22
First $10,000 goes directly to Voices of Children Foundation
Get 3 Months of online classes for $20 >
Did you miss our 10 Class Slash last week? Have you been meaning to try our online classes? Do you want to support children and families in Ukraine? Today is your lucky day! We've got 2 sales going on – TODAY ONLY! The first $10,000 in sales will go directly to Voices of Children Foundation.
Over the past few weeks we've been brainstorming ways Dragonfly can raise money to support people effected by the war in Ukraine. We considered a lot of things, but ultimately thought having a special "flash slash" sale would be the easiest, fastest, and most impactful way we could help not just the people in Ukraine, but here too through the gift of yoga. So we're having a Fundraising Sale for one day only! The first $10,000 in sales from these two deals will go directly to the Voices of Children Foundation.
About the organization: Founded in 2015 as Ukraine was engaged in fighting with Russian-backed separatists, the Voices of Children Foundation focuses on ensuring psychological support to children traumatized by war. The organization provides art therapy, traveling psychologists and evacuation assistance. They also have set up a storytelling project to share the stories of Ukrainian children growing up in a war zone.
Get 3 Months of online classes for $20 >
Slash fine print These slash passes expire 6 months after date of sale, no exceptions. Limit 2 per person. Passes are used in the order they are purchased. If you have other passes on your account, they will be used first. May not share or transfer Dragonfly passes. May not combine with other offers/coupons, and no refunds. Passes are good for any regularly scheduled Dragonfly class at any location. Please call 608-203-9000 to purchase for someone else. Sale date: March 19, 2022
Dflyondemand.com fine print: May not combine with other offers/coupons, and no refunds. Use code UKRAINELOVE at checkout to get the deal. Pay $6.75/month for 3 months, then $14.99/month after. Cancel anytime. Sale date: March 19, 2022