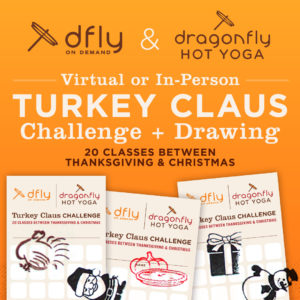 Get a Chance to Win A Dfly Retail item of your choice!
Turkey Claus Challenge
Complete 20 Classes between November 26 & December 25, 2020
In-person, online, or both!
The Turkey Claus is back – both virtually and in-person! This time of year is busy, and it can be easy to leave our self-care routines on the back burner. This year it is even more important to keep up a consistent yoga and fitness routine to keep your mind and body healthy. Enter the Turkey Claus Challenge – 20 classes between Thanksgiving and Christmas. Can you do it? Let's yoga!
Grab a card at the front desk, or screenshot our challenge card from our facebook or instagram posts, or download a challenge card here and get started November 26!
You can take all virtual classes at dflyondemand.com, or attend in-person, or a combo of both! If you are taking class in-person, get your card stamped with one of our holiday stamps after class. Attending virtually? Fill out the squares yourself after you attend!
Once you've completed your challenge, hand in your card to the front desk, or email a photo or screenshot of it to info@dragonflyhotyoga.com. All finished entries will be entered into a drawing for a free Dfly retail item!