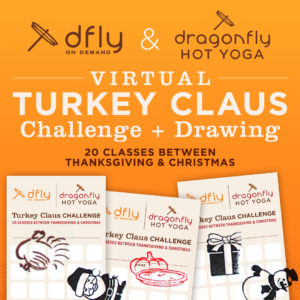 Get a Chance to Win A Dfly Retail item of your choice!
Turkey Claus Challenge
Complete 20 Classes between November 26 & December 25, 2020
Now all virtual at dflyondemand.com
The Turkey Claus is back – virtually! This time of year is busy, and it can be easy to leave our self-care routines on the back burner. This year it is even more important to keep up a consistent yoga and fitness routine to keep your mind and body healthy. Enter the Turkey Claus Challenge – 20 classes between Thanksgiving and Christmas. Can you do it? Let's yoga!
Screenshot our challenge card from our facebook or instagram posts, or download a challenge card here and get started November 26!
Make it fun and virtually "stamp" your challenge card after every class you attend.
Once you've completed your challenge, email a photo or screenshot of it to info@dragonflyhotyoga.com. All finished entries will be entered into a drawing for a free Dfly retail item!