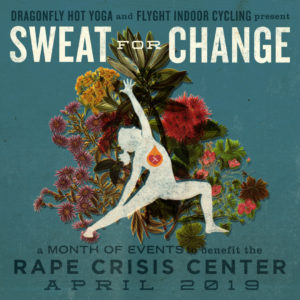 Dragonfly Hot Yoga and Flyght Indoor Cycling present a month of events to benefit the Rape Crisis Center of Dane County


EMBRACE YOUR VOICE! April is Sexual Assault Awareness Month, and all month long, Dragonfly and Flyght will be holding fundraising events to benefit the Rape Crisis Center, a local non-profit that provides free services to survivors (and their families and friends) of all forms of sexual violence, including recent sexual assault, past sexual assault, incest (past or present), sexual harassment, and sexual exploitation. The RCC needs our help to continue their vital work in our community!
Help us show these survivors that their voice has power! A complete list of our events are below:
Dragonfly Hot Yoga & Flyght Fundraising Events
Events are $20 each. 100% of your donation goes to RCC.
Yin & Nidra Fundraiser
April 7, 2019 • 1:15 – 2:45pm • Dragonfly Fitchbug Sign up >
Yin & Nidra Fundraiser
April 14, 2019 • 1:00 – 2:30pm • Dragonfly Sun Prairie Sign up >
Yin & Nidra Fundraiser
April 27, 2019 • 12:00 – 1:30pm • Dragonfly Middleton Sign up >
3 Hour Fitnessathon & Fundraiser
April 28, 2019 • 1:15 – 4:15pm • Downtown Dragonfly and Flyght Sign up >
Online Auction
Bid on Dragonfly and Flyght classes, merchandise, and more!
Bidding is open April 1 – April 30, 2018
Bid on Auction items >
Donate Directly
Prefer to donate directly to the RCC? You can do so here:
Donate to RCC >