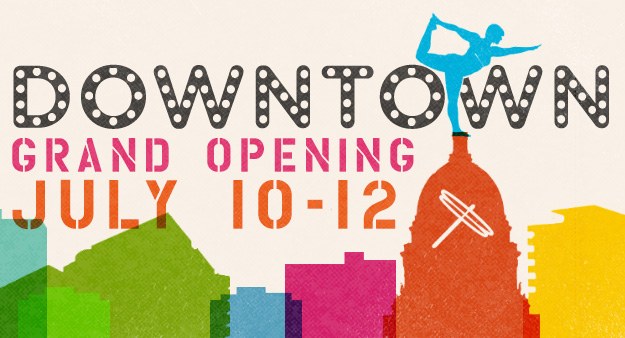 309 W. Johnson St.
Madison, WI 53703
(2nd floor)
Friday, July 10, 2015: 8:00am-7:00pm
Saturday, July 11, 2015: 7:30am – 5:30pm
Sunday, July 12, 2015: 7:30am – 6:30pm
Grand Opening Events
Friday, July 10
– FREE Open House 8am-7pm
– Studio Tours
– Free Giveaways
(while supplies last)


– Enter a drawing for 1 Year of Free Yoga
– Grand Opening Specials

(details below)

Saturday, July 11 & Sunday, July 12
– FREE classes (schedule below)
– Studio Tours
– Free Giveaways (while supplies last)
– Enter a drawing for 1 Year of Free Yoga
– Grand Opening Specials (details below)

Grand Opening Specials
These deals are only available in person at our Downtown location on July 10, 11, or 12. Stop by and save!
– 1 Month of Unlimited Yoga for only $20
(new students only)


– Get a 10 Class Pass for only $99

(limit 2 per person, expires in 6 months)


– Save $100 On A Dfly Membership

($40 sign up fee waived and $30 off 2nd & 3rd months, new members only)



Free Classes
Reserve your space by signing up below. Arrive 15 minutes early to check in.
Sign up for Saturday will begin June 27, and Sunday will begin June 28.