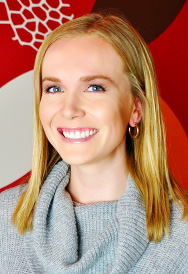 Taylor Dybul
Staff
Experience
I took my first yoga class in undergrad and would take them here and there with friends. Last winter, Nicole Klans told me about the intro offer at Dragonfly. I tried that in hopes of starting to find a consistent avenue of exercise and fell in love with the Dragonfly Studios and yoga. For the first time in awhile found myself excited to go and work out instead of dreading it. I love all the different types of classes that Dragonfly have to offer!
Having scoliosis, I often have a lot tight muscles and was getting pretty bad tension headaches. Yoga has really helped me improve my symptoms associated with my scoliosis, improve my overall fitness, flexibility, and strength, as well destress in the midst of graduate school.
Favorite Pose
Side Crow - This was the first "advanced" yoga pose per say that I was able to do. I was so excited when I was able to do it that I immediately went home and showed all my friends and family!
Favorite Quote
"Stop waiting for Friday, for summer, for someone to fall in love with you, for life. Happiness is achieved when you stop waiting for it and make the most of the moment you are in now."
Why I Love Dragonfly
I love Dragonfly because of the super welcoming environment. It's a place where I always leave feeling good and rejuvenated! I LOVE all the different class options there are— whether I need a nice flow to destress or want an upbeat yoga UP class, it has all different types of work outs that always challenge me and make me feel well rounded both mentally and physically.
Little Known Fact About Me
I'm obsessed with golden doodles & can't wait to have one of my own one day!