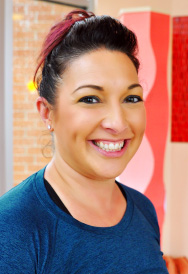 Tammy F.
Instructor
certifications
Power Up

My Teaching Style
I love the energy from the group! I thrive off of what they bring to class - good vibes, positive attitudes, drive and joy. I am a silly person, so making my class fun and a different experience each time keeps me motivated! I enjoy music and how it allows you to focus in or tune out - whatever is needed!
Experience
I found my love for yoga and heated fitness classes by mistake – I thought hot yoga was a crazy bucket list activity but once it was tried, there was no looking back. Since 2012 and over the years, I've experienced different styles, techniques and instructors to solidify that heat, movement, and the clarity of the studio is truly a part of my lifestyle. With several knee surgeries in my past, I've found that the ability to maintain healthy joints and muscles while increasing balance and strength has allowed me to find the perfect fit in staying active! I couldn't be happier to be able to balance a career, family, as well as a rewarding mental and physical passion. I reside outside of Sauk City with my husband, Adam and our son and two daughters; Blake, Nora, and Collyns.
Favorite Pose
I love all things challenging balance! Needle pose and tree pose come to mind right away. I also love the balance challenges in movements such as reverse and curtsy lunges.
Favorite Quote
"Be happy with what you have and are, be generous with both and you won't have to hunt for happiness."
Why I Love Dragonfly
From my first class, I was ALL in! I loved the style and all aspects of the experience. I noticed an increase in balance and strength and found a sense of community, warmth, and non judgement - which I didn't know I was looking for!
Little Known Fact About Me
I was a pediatric oncology patient. I have had some pretty huge experiences at a young age that have inspired me in various aspects of my life as well as humbled me in a way that I hope I can teach my children without them ever having to go through it.
Tammy Fitzpatrick's Class Schedule