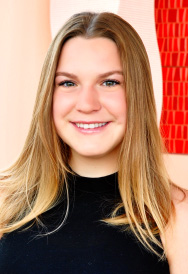 Sierra L.
Instructor
certifications
CYT-200

My Teaching Style
My classes are powerful and playful! I love to jam out during my own practice, so I create a space for yogis to have fun and feel challenged and inspired (with some musical influence (: ). I hope that yogis leave my classes feeling filled up and ready to conquer hard things, as that is precisely what they have done in the studio!
Experience
I fell in love with the practice of yoga in 2019, even though I started practicing, quite infrequently, in 2014. I have found that I love taking and teaching all genres of classes, from aroma yins and slow flows to yoga ups and core flows. I have learned that I do not favor one style of classes, as I have always been eager to learn and experience anything and everything. This sentiment encouraged me to further my yoga journey, and I completed my 200 hour yoga teacher training at Dragonfly March of 2022.
Favorite Pose
My favorite pose is Bird of Paradise because it symbolizes a turning point in my own practice. During my first years of practicing yoga, I oftentimes held back when I wasn't familiar with the poses called. My first time attempting Birds I definitely wobbled and couldn't quite settle into it, but I got so much further than I thought I could. Now, Birds is a reminder to try something new every time I have an opportunity to!
Favorite Quote
"Educating the mind without educating the heart is no education at all."
– Aristotle
Why I Love Dragonfly
Every time I teach or attend a class at Dragonfly I know that I'll leave feeling stronger. The merging of challenge and ease surrounded by beautiful, incredible people is something that Dragonfly provides to every person that steps foot in the studio. That is SO epic.
Little Known Fact About Me
I'm named after the Sierra Nevada Mountain Range!
Sierra L's Class Schedule